N100BN BAIL OUT FUND: TEXTILE WORKERS ATTACK MINISTER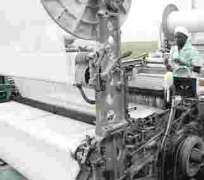 A textile plant in Nigeria
The Minister of Commerce and Industry, Senator Jubril Martins-Kuye, on Tuesday, in Kaduna came under attack from the National Union of Textile Garment and Tailoring Workers of Nigeria over his recent warning to the Federal Government that it should refrain from disbursing the bail out funds to the country's ailing textile industry.
The NUTGTWN said that Martins-Kuye by his utterances had displayed ignorance about the happenings in the industry and accused him of pursuing an alleged personal agenda in the ministry.
The union therefore demanded for his immediate resignation as a minister if he could no longer implement government policies on the revival of industries in the country.
The NUTGTWN General Secretary, Mr. Issa Aremu, flanked by the union's President, Reginald Agulanna and other officials said at a press conference that rather than seeking for effective means of implementing government policies on the revival of industries in the country, especially the textile sector, the minister decided to make comments that were counter-productive by saying that the N100bn Textile Revival Fund would go down the drain if disbursed.
The union stated that Martins-Kuye could not have been speaking the mind of Acting President Goodluck Jonathan by such comments, which were capable of discouraging the owners of the textile factories who had been making serious efforts to re-open for production from doing so.
Aremu, who read the statement of the union stressed that a bail out plan initiated by former president Olusegun Obasanjo's administration and implemented by the Umar Yar'adua government still existed, adding, 'If he cannot actualise the plan already on ground, he should not add to our problems.'
The union noted that the textile bail out fund had been misconstrued by the minister as a charity to the benefiting industries.
The fund, it explained, was rather a long-term loan managed by the Bank of Industry on a single digit interest rate as against what is obtainable in the commercial banks.
The NUTGTWN further argued that Martins-Kuye's statement that the current economic conditions in the country did not favour a bail out plan for industries was misleading and capable of short-circuiting the gains already made with regards to the revival of the textile industries in the country.
'There is already a bail out plan for the industry and textile industry in particular. There is the textile revival fund. The mandate of the new Minister of Commerce and Industry is to realise this existing plan and not to jettison the plan or reinvent another personal agenda,' the union said.
It also recalled that upon the inauguration of the new Federal Executive Council, the Acting President Goodluck Jonathan, 'admonished the minsters not to reinvent personal agenda but to ccontinue to work for a rigorous implementation of the policy framework of this administration. The Ag. President said 'The blue print for the actualisation of government objectives are there in the budget and in the various policy frameworks now gathering dust in our archives. No minister will be allowed to go on a mission of endless search for solutions. You must hit the ground running.'