The RED Summit Announces Ije Nwokorie, Managing Director Of Global Agency Wolff Olins, Biodun Shobanjo, Chairman Of Troyka Holdings And John Momon, Chairman Of Channels Television As Keynote Speakers.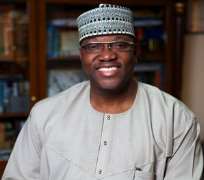 'The RED Summit', West Africa's biggest gathering of media leaders across sectors in the sub-region has announced a line-up of Keynote Speakers for the first edition - it includes Ije Nwokorie, Managing Director of global agency Wolff Olins, Biodun Shobanjo, Chairman of Troyka Holdings and John Momon, Chairman of Channels Television.
Presented by leading omni-media group, Red Media Africa, the summit holds on 15-18 October, in Lagos Nigeria - and will include a 2-day conference, West Africa's largest inter-school media town hall, and an evening to celebrate icons of the media.
"There is no better time than now to discuss the future of the media industry in Africa's stories and vice versa, said Shobanjo. "This summit is important for Nigeria, and for Africa, because mobility is dramatically altering the continent's media landscape.
"At Troyka, we recognize this shift which has given rise to a democratization of media usage and the emergence of the now consumer who is not just a receiver but also a modifier of news and thoughts. Hence, we are continuously at the forefront of understanding now consumers and forming alliances with them, with a view to projecting brands, people and places," he said.
Ije Nwokorie, the global chief executive of international brand consultancy, Wolff Olins which, amongst others, ran the London Olympics, spoke to the endless possibilities open to Africa as it takes control of its own narratives to define its future.
"Whereas for most of the last 300 years, the media – and therefore not just the message, but culture and power – has been controlled by the few, the world we live in is one where that control lies with the many," Nwokorie, who is based in London, said. "This presents all sorts of opportunities, especially for Africans.
"I am curious at least, excited even if a little nervous, to see how Africans of all sorts – not just the cultural/political/economic elite – take control of their own narratives and stories. For of all the forms of freedom there are, the control over one's story is probably the highest form there is. What we do with that freedom will define our future – and it is entirely up to us."
The RED Summit will bring together media leaders individuals and organisations in public relations, advertising, television, radio, print and online from across the globe to define the future of the media in a rapidly changing landscape.
Participants will connect, network and anchor high-level conversations and solutions about the media in host country, Nigeria, and across African audiences.
Registration is now open. To register, go to the summit http://www.theredsummit.org . Registration ends on 30 September, 2015.
About Red Communication
Red Communication is a PR & Communication firm under the parent company, RED. An innovative media group focused on Africa, RED's vision is to excite and empower an evolving generation through the media's limitless possibilities. Built across tools and platforms, its Communication Division holds Red Communication, Red Marketing and Small & Medium, and YouthConnect; and its Content Division holds the Y! brands, including Y! TV, Y! Magazine, YNaija.com, Teen Y!, Y! 2015, the Y! Tech 100 and the Y! Annual Black Ball/Y! 100 Most Influential List. It also anchors a development firm, The Future Project Africa, which co-presents Africa's leading youth platform, The Future Awards Africa, and other projects including the Nigeria Symposium for Young & Emerging Leaders and The Future Enterprise Support Scheme.
WOLFF OLINS MD IJE NWOKORIE
TROYKA CHAIRMAN, BIODUN SHOBANJO