Ikpeazu U.S Trip Of Deceit And Wasteful Expense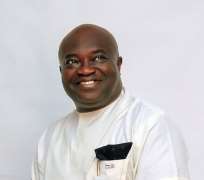 The Abia state Governor Dr Okezie Ikpeazu recently concluded a 7 day sight -seeing and shopping trip to the United States. A trip that was conveniently portrayed as a visit to attract economic and foreign investment to Abia state. In an effort to confuse and fool the usually gullible Abia citizenry back home, one of the Governor's many Senior Special Assistants has been busy posting all kinds of false reports on social media extolling the Governor's accomplishments during this trip.
In mentioning the various places the Governor went to and the few low level government officials he was able to meet with, this Special Assistant, by name Mr Hart was at least candid enough to mention that the Governor spent 2 days hobnobbing, dinning and cavorting with his Ngwa brethren at their Annual Ngwa Association Convention which was held in the state of Conneticut over the weekend.
It is noteworthy to point out that that there are thousands of Abia citizens resident here in the United States who were unaware of the Governor's visit, nor care about it. To many of them this Governor is the Governor of the Ngwa people, for the Ngwa people by the Obioma Ngwa people. As a consequence of their feelings, they go about their daily lives hoping, praying and waiting for a favorable verdict by the Abia Election Tribunal by the 11th of November.I t is very instructive to note also that at this time of the year here in the United States many Nigerian social and cultural organizations hold their annual conventions. Just last week alone more than ten Abia organizations held their annual conventions none of which took the opportunity of the Governor's impending visit to invite him except the Ngwa Association which of course was the real reason for this wasteful visit but cloaked in the armor of foreign Investment solicitation trip.
Now back to the deceptive report of Mr Hart which they conveniently posted on my facebook page , accompanied by pictures of the Governor with his retinue of Special Assistants who by their pose in the pictures seem to be more excited about being in the United States , some of them presumably for the first in their lives than for their dubious claim of being in the country to solicit foreign investment. In his facebook posting Mr Hart tried mightily hard to present a picture of a Governor who was all business by listing the various low level officials they were lucky to meet with. It must be noted that from the content of his posting, the highest government official Dr Ikpeazu was able to meet with was the Maryland Secretary of State., who presumably out of mere courtesy was able to stand in for the Governor who obviously had more serious issues to attend to ,than to meet with a Governor whose continued stay in office is to say the least tentative.
Further in his report, Mr Hart made mention of their meeting with a Washington lobbyist. For those who do not know, to secure the services of a registered lobbyist in this country costs a lot of money. As usual Mr Hart failed to mention how much the services of this lobbyist will cost the people of Abia state in U.S dollars not Naira. A wasteful drain on the already depleted or empty treasury of Abia state. He also revealed that the Governor's entourage was able to meet with several business and company executives who were solicited to come and invest in Abia state. In my limited knowledge of the way these foreign economic trips work, the Governor is usually accompanied by men of notable repute, men with foreign exposure and experience in the business world, technocrats who are experts in their fields and who are able to effectively articulate their needs and be able to convince their host counterparts of the benefits in investing in their home state. Now can anyone truthfully tell me that the caliber of people who accompanied the Governor on this trip meet any of the aforementioned qualities stated above?. The answer is no. From the look of them and from my limited acquaintance with their antecedents, knowledge and experience these men are all a bunch of sycophants who have earned their place in this administration by virtue of their local government of origin and by their role in rigging the Governor into power.
Some have accused me of always being critical of this Governor. To which my response is that I hold no personal grudge or animosity against Dr Ikpeazu or where he comes from. I just resent the way he rigged himself to power and his continued reluctance to probe his predecessor, Governor TA Orji. I have never hidden or made secret my preference for Dr Alex Otti who in the opinion of most Abia citizens won the election and who in my estimation is a more experienced technocrat who will make a better Governor. Dr Ipeazu and his supporters make a point of constantly reminding us that Dr Ikpeazu has a PhD, as if holding a doctorate degree is synonymous with competence and a perquisite for good governance.
The question I keep asking of those are extolling the virtues of Dr Okezie are, what is the essence of this trip to the United States and Turkey , less than 100 days in offices? How can anyone justify the spending of thousands of U.S dollars in travelling allowances and millions of Naira on a foreign trip at a time when thousands of civil servants and pensioners are yet to be paid, and the state coffers is empty. ? To me this trip is only but the worst expression of the reality that confronts the Abia people in which great suffering and insecurity has been their daily experience. The grim humor of the Abia peoples predicament is that they are saddled with this inept administration for the next few weeks until the tribunal renders its verdict.
'Cluelessness ' ,a friend of mine once said to me is "when you go to the bank to ask for a loan to build a house , yet have not been able to pay your rent or buy food to eat". This analogy can be applied to this Governor, who claims the purpose of his U.S trip was to solicit foreign investment, to a state that is basically financially bankrupt, and is unable to meet its salary obligations to its teeming civil servants, whose infrastructure, like good roads , electricity and water supply is non- existent. Whose basic public institutions like schools and hospitals exist only in the physical structures that bear their names. My question is , what foreign investor in his right mind would want to invest in a place like that, which goes to my point that this trip was an unwarranted wasteful expense by a Governor who is on a blind search for relevance and public acceptance.
I am not going to bother myself with the content of his speech to his Ngwa brethren at their Connecticut Convention, because the speech displayed the elastic intellectual flaws which has been associated with this Governor All the accomplishments he listed were too pedestrian to indulge with a response, for they were not only comical but presumptuous. As usual he was surrounded and applauded by his yes men and chorus crowd as epitomized by the public expression of adulation by the mostly Ngwa crowd. The truth however is that such support has dubious predictive power of fooling the recipient into believing in his mortality and the acceptance of the citizenry
As I read and listen to the propaganda by Ikeazu's team of media sycophants about the wonderful job the Governor is doing, I say enough. Enough with this plauditary reports about how seven roads in Aba are being reconstructed, even though we do not know the name of the construction company or the cost of the project. Enough with the impractical maximalist extremes. Enough with the boastful reports on the on- going biometric exercise. Enough of the sycophancy and the unblinking idolatry of all things PDP. Enough of the use of the state media as a propaganda machine spewing all kinds of lies. This has been an administration ruthlessly anchored in Propaganda, misinformation and the misrepresentation of facts. An administration born and sustained by a combination of parsimony, geographical determinism and ruthless intimidation of the citizenry.
Mark Twain once wrote, "it is easier to fool people than to convince them they are being fooled". Sometimes, I ask myself, who are these people supporting this government? Our people have been fooled over the last 16 years yet there are people who are willing to swear by this administration. Such people see criticisms from people like me as infantile mischief and a literary intrusion on their peace. To these people I humbly request that they take off their rose-colored goggles and take an objective look at this object of their infatuation the Ikpeazu administration. To me, the decision to embark on this trip was an act of economic stupidity. Even though every individual or even a Governor is entitled to some degree of stupidity, it is just that this Governor has abused the privilege. To his supporters my definition of stupidity is knowing the truth, seeing the truth and hearing the truth, but still believing the lies.
Today there exist in Abia state, an unequal playing field that carries the stench of discrimination and geographical favoritism. It is a well- known fact that personnel choices most often determine policy priorities. Most often than not the quality and caliber of a Governor's staff reveals a road map on how he will govern. That this Governor has deemed it fit and expedient to surround himself with mostly Obingwa assistants tells us that this is a man who not feels uncomfortable in the presence of people of great expertise and intellect, and who not only lacks the ability to think and act rationally and analytically but also disdains the very notion of it.
As the Governor and his entourage leave for Instanbul, Turkey to meet up with another group of globe- trotting special assistants, I hope that during his stay in the United States he saw the cleanliness of the streets, the perfectly constructed roads, the uninterrupted supply of electricity and water, the adequately furnished and equipped schools and hospitals, the efficiency of the civil servants who of course are paid promptly, the freedom of the media, free from the clutches of the government and the integrity of its public officials and compare it to what obtains at home.
Abia people need deliverance and as they wait for the return of their mandate to Dr Alex Otti , I urge them to stand firm in their support for Dr Otti and to continue earnestly in supplication to the almighty for their long awaited deliverance from the grip of this pharaoh in Abia state .We must keep hope alive. By the grace of God our victory is assured and like all things borne of misery ,the memory of the painful experience will fade with time.
Nnanna Ijomah Bsc, MA (International Relations) is a Scholar, a former Special Assistant To the Late Chief Emeka Ojukwu and a resident of New York City.
Disclaimer:

"The views/contents expressed in this article are the sole responsibility of

Nnanna Ijomah

and do not necessarily reflect those of The Nigerian Voice. The Nigerian Voice will not be responsible or liable for any inaccurate or incorrect statements contained in this article."
Articles by Nnanna Ijomah