Comrade Solomon Dalung, Aso Rock Villa Chapel Matters Arising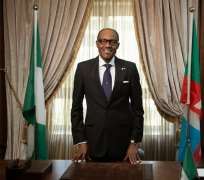 Last week there was viral speculations published on both social media and online news that President Muhammadu Buhari has sealed the Christian Chapel in Aso Rock with Armed Security in preparation for pulling it down.
The rumors though well-conceived was packaged to instigate the Christians against the current government. So many gullible Christians fell prey to this mischief by assisting in spreading it as wild fire.
Even though it was unfounded and also knowing the President's disposition, I must not abandon such sensitive security threat to chance. Enquiries were established with the Chaplaincy in Aso Rock to authenticate the veracity or otherwise of the rumors which indeed fell the litmus test of truth.
I then decided to worship at the Chapel for the first time to see things for myself and also encouraged the brethren worshipping there. So I was at Aso Rock Chapel Abuja, yesterday, 6th September 2015. I went through all the different security screening at four different points like every other worshiper before finally accessing the Chapel.
We had a smooth and sweet fellowship and thank God for everything. I made enquiry about the so many security screening but confirmed that it was normal and had been like that. I asked Rev Oluseyi Malomo, the Chaplain, if the Chapel has once been closed down even for five seconds at the orders of President Buhari, he answered negatively. Therefore, who is behind the rumors and what is the intention?
Of course religion is a sensitive issue globally especially in Nigeria it has been the weapon of destabilization of national cohesion. Conflict architects of Nigerian war theatre are familiar with this antic so it can be activated conveniently to set the country on fire. In my thinking, they are at it again after losing out in the power equations. The beneficiaries of failed leadership are not comfortable with Mr. President austere and transparent administrative style.
There is great fear that allowing him full length will perfect the requiem of money bag politics in Nigeria. "I am for everybody but I am for nobody" is conceived as a political vaccine that will return political power to the voiceless majority hence integrity will replace mediocrity. Looters are scared as most of them had complied with the injunction of "Masu gudu su gudu" by the revolutionary Hausa political satire, Rarara. The anti-corruption war of this administration is viewed by corrupt political class as "mother of all wars" against legendary stealing that has been entrenched for years. Many are already hospitalized with escalated blood pressure and related health complications due to tension.
There is confusion all over GRA, Maitama, Asokoro, Victoria Island, Lekki beaches and all choice settlements in the country. While there, jubilations were blooming in Yan awaki, Kumo, Angwarogo, Iseyin, Malali, etc and all slumps where the masses live. This to my mind is the unfolding contradictions responsible for the rumors of the closure of Aso Rock Chapel.
Nigerians must safe guard their mandate freely given to President Buhari under the mantra of Change. They must watch out for enemies of the people whose stock in trade is religious manipulation. Now that it's no more business as usual then peace must be punctured for crisis to take over. Those who looted the national treasury profess religion yet "stealing was not corruption".
We must all stand out and say never again shall vandals rule us in this country. And that religion will never to use to divide us to be slaves of clueless leadership. Nigerians believe in President Muhammadu Buhari and are determined to sacrifice for a better future. With the Daura born General in command petit stealing is now corruption so let's buckle up for the challenges to building a new dawn.
Ja mu je dodon azalumai Nijeriya.
APC USA International Secretariat Working for you..