At 50 A Senior Pastor Of Praise Chapel Int'l Yola Attribute Golden Jubilee To God's Faithfulness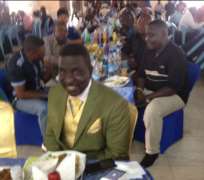 A senior Pastor of Praise Chapel international, Rev Godwin Ngasony Tambo today (Sunday) celebrate his 50th Birthday and attributed the glorious journey to God's great faithfulness.
Tambo who is the Residence pastor in- charge of the Churches in Yola, Adamawa state recounts his blessings showered by God since from childhood and discovered he owing God a lot of thanks giving, a reason why is celebrating the golden Jubilee anniversary in grand style.
Pastor Goddy as he is popularly called is described by well wishes as a gentle and humble man who has been passionate about the kingdom of God.
The Adamawa state chairman of the Christian Association of Nigeria (CAN) Bishop Mike Moses who extolled the qualities of pastor Godwin as one that has genuine called by God and does not interfere with Call with politics or anything of sort.
"The celebrant is one pastor that refused to involve himself into politics of any form in the state but he has always observed the principles of Jesus Christ which is the foundation of Christianity"
The CAN chairman added that pastor Goddy is a Christian adding that he practices what he preaches.
However the chairman of the occasion held for the celebrant at the church premises , Elder Felix Obadan, the former District Governor of 9125 of the Rotary club said he know the celebrant about 25 years ago adding that he can vouched for pastor Goddy's character.
Obadan described the celebrant as a man of his word and integrity as he said the celebrant has been his prayer partner for more than 18 years when he has not risen to the class of successful people.
He said Goddy was the secret behind his success adding pastors should emulate the good virtues of pastor Goddy.
However attracted government personalities, Bishop Musa Weyep and former member of the House of Representatives, Other Bishops and pastor were present at the event.