Precious Chikwendu: Nigeria's Precious Jewel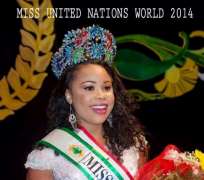 Miss Precious Chikwendu was Nigeria's representative at the Miss United Nations World Beauty pageant in 2014. Not only did she sponsor herself to the event but she got herself well groomed with her own resources up to the required international standard. With the confidence of a lioness and the heart of an amazon she embarked on this great journey which ultimately brought not only tremendous recognition to Nigeria but also immense respect.
She contested in this intimidating international pageant which took place on the 7th of July, 2014 in Kingston, Jamaica. She competed against a host of other participants who came with the full bscking of corporate and individual sponsors from their respective countries, intimidating delegations, large crowds of international celebrities and well-heeled supporters and other nerve-wracking credentials. They came from countries like the United States of America, Great Britain, France, Germany, The Netherlands, Canada, the Ukraine, Russia, Japan, Guyana, Martinique, Gaudalupe, the Bahamas, Australia, Mexico, Trinidad and Tobago, Jamaica (the host nation) and many others.
Amidst all this, Miss Precious Chikwendu of Nigeria, was all alone. She had no sponsors, no delegation, no international celebrities, no corporate giants, no media gurus, no lobbyists and no Olympian credentials to back her. The only things she had were her natural beauty, her warm charm, her brains, her university degree, her confidence, her faith in God and an impressive catalogue of the sterling achievements of her numerous works of charity here in Nigeria. Despite the tough competition and the intimidating obstacles and factors that she was faced with, she worked her socks off and got through to the final where she, in spite of all the odds, became the winner of the keenly contested pageant.
This achievement makes her, not only the first ever Nigerian to have won the crown but also the first ever African to have emerged as winner in the prestigious pageant whose rules, conditioning and criteria for winning are more stringent than most.
This has brought honor and glory to her fatherland and further projected Nigeria as a country of not just resilient and hardworking people but also a country where beauty and brains can walk and work gallantly hand in hand. She has proved that Nigeria is not just about all the negative things that the hostile international media want people to believe about her. She has proved that our ladies are not only achievers but also imdividuals with very strong personalities and characters. She has proved that our women can be outstanding and that they can excel in whatever field of endeavor that they choose no matter who is involved and no matter what the competition is.
Examples of such women abound in Nigeria. Women who have proved their worth in their various fields of endeavor. Such women include Dr, Ngozi Okonjo-Iweala, the former Managing Director of the World Bank and the immediate past Honorable Minister of Finance and Coordinating Minister of the Economy, Dr. Arunma Oteh the immediate past Director-General of The Securities and Exchange Commission (SEC) and the first African female Vice President and Treasurer of the World Bank, Dr, Oby Ezekwesili, the former Minister of Education and former Vice President of the World Bank, African Division, Chioma Ajunwa, the first West African woman and the first Nigerian to win an Olympic gold medal in a track and field event, Agbani Darego, Miss World 2001, Sophie Okenedo, the Nigerian-born Hollywood actress, Mo Abudu, the international broadcaster and entrepeneur, Genevieve Nnaji and Omotola Jolade-Ekhinde, the Nollywood actresses and so many more.
With her achievement and glaring success Miss Precious Chikwendu has joined this noble league of great women who have brought accolades and fame to Nigeria by the sheer dint of their hard work, determination, focus and faith in God. She has by this feat, convinced a very large section of the international community that Nigerian women are not only pretty faces but that they are also hardworking, confident, versatile, industrious, intelligent, honorable and virtuous.
Given her success in Jamaica and high visibility, Miss Precious Chikwendu, Miss United Nations World 2014, ought to be utilized by the relevant government and non-governmental organizations in our country to help Nigerians that are in need. This can be done in addition to her numerous ongoing charity projects which she more often than not sponsors herself.. She ought to be further projected to the world as the face of our ever vibrant young ladies, the character of our women and the heart of our mothers.. Relevant agencies of government and other NGOs can also partner with her in enlightenment and awareness campaigns to our girls in schools and tertiary institutions .
Other contestants who represented their countries at the Miss United Nations Pageant and particularly those that ended up winning the coveted crown of "Miss United Nations World" over the years have always been given due recognition in their respective countries. They have been provided with opportunities and official platforms in order to help impact their societies in a positive way and to be a greater force for good. Sadly this has not been the case in Nigeria. In our case our intermational Queen has been made to carry on all alone as if we are averse to those who bring glory to our great country. A good example of the way other nations have rallied around their Queen and celebrated, encouraged and supported them is that of Miss Sherrie Gerhardt, Miss United Nations 2015, who won the international pageant in July this year and who is Miss Precious Chikwendu's successor in office. Sherrie is from the United States of America and she did very well for her country by winning this years pageant. Since that time she has been all over the world doing charity work and all over America with the full support and backing of many American NGO's and corporate bodies. It appears that the Americans appreciate the efforts and achievements of their beauty Queen far more than we do. Were it not so Miss Chikwendu would have received far more commendation and support in Nigeria than she has been getting.
A former model and professional actress who has featured in popular movies and TV series such as "Thy Will Be Done", "Love Struck", "Onye Ozi", "I come Lagos", "Secrets & Scandals", "The Hustlers" and many more, Precious Chikwendu is a well sought-after in her field. In terms of her acting career we have heard from the grapevine that offers have come flooding in from Hollywood ever since she won the international pageant. If she follows this up and decides to take the full plunge it appears that she is set to follow in the footsteps of other African actors on the world stage like Chinwetalu Ejiofor, Lupita Nyongo and others.
Yet for now she is content with all that she is doing under the auspices of her Snowhite Foundation. This includes her acts of philanthropy and her support for the more vulnerable and weaker in our society. To this end she has used her own personal finances and much of the foundations money to complete humanitarian projects all over the country and offer scholarships to children for both schools and tertiary institutions as part of her charity work.
Amongst other things this beautiful young damsel from Nanka, Orumba North of Anambra State, has refurbished numerous schools in order to make learning more conducive for students. For example, some schools have had their dilapidated floors tiled, equally dilapidated learning boards replaced with modern ones, beautification of the schools through the expansive and strategic planting of exotic flowers and green landscapes, distribution of free school uniforms, writing materials and enlightenment campaigns to the students on the need to always be conscious of their environment and leave it clean at all times.
The A.M.E. Zion Primary School, Diamond Hills in Calabar, Cross River State, the Model College in Maitama, Abuja and a few others are amongst those institutions that have so far enjoyed the benefits of Precious Chikwendu's philanthropy. A modern mathematical laboratory was also built by her and donated to one of the schools in Kingston, Jamaica, as a mark of honor and appreciation to the city for being the host of the Miss United Nations World Beauty pageant where she emerged the winner.
She is in the process of replicating the same in Nigeria right now. As a mark of the respect and trust that they have in her Miss Chikwendu was recently awarded the local franchise of the Miss United Nations Pageant by the international body. This was done by the pageants Board of Trustees under the leadership of its Pesident, a prominent and well-respected Jamaican businessman by the name Mr. Leon Williams. Miss Chikwendu was given the mandate to organize the national version of the pageant in Nigeria on an annual basis.
In her characteristic manner Precious Chikwendu rose to the occasion and took up this challenge with the required and necessary zeal. In short she made a resounding success of the maiden edition of the event even though she had to more or less fund it herself. Except for a few notable individuals who made a few contributions most of the funds for the Nigerian version of the pageant were put in by Miss Chikwendu herself. Such was her passion for and belief in the project and such was her desire to ensure that Nigeria could send a strong team to Jamaica for the international pageant which was scheduled to take place a few weeks later.
The Nigerian version of the pageant took place on 16th May, 2015, at the Congress Hall of the Transcorp Hilton, Abuja. It was a grand affair and a resounding success. Together with the month-long build-up to the event, which included the numerous auditions for participants from every single zone and most states in the country, the training and preparation of the successful applicants and finally the grand event itself with all its razzmataz, glittering lights, celebrity content and media coverage, the whole thing eventually cost no less than $350,000.USD. I have been reliably informed that virtually all that money was provided almost single-handedly by this indefatigable amazon herself.
Such was her commitment to the project that she funded the event with her life's savings. Quite apart from that, unlike we have come to know about some other beauty pageants, Miss Chikwendu ensured that the integrity of the pageant was not compromised as she insisted on upholding the highest ethical standards for all crew members and participants in the contest. In the Nigerian context that is what made the whole thing different to most.
With the former First Lady, Dame Patience Jonathan, as the special guest of honor together with an array of many other stars from the political, business and entertainment community, it was a night of remarkable achievements and sheer wonders. John Fashanu, the former international footballer and star celebrity, together with a handful of well respected international actors and models from the U.K. and the U.S. were the judges for the night and they did an excellent job.
There were attactive prizes for those that won and A-list performers, including AY, Chidimma, Klint Da Drunk etc hired for the night. The occasion was a resounding success, especially as winners emerged through a very transparent and competitive process.
Unlike other pageants where commotion and shouts of 'no, no, no' and 'we no go gree o, we no go gree' followed by throwing of missiles at the judges and organizers, the winners of Miss United Nations Nigeria were not only the judges' choices but also the people's. 5 categories of winners emerged at the night in the different categories of Miss United Nations Nigeria, Mrs United Nations Nigeria, Ms United Nations
Nigeria, Miss Teen United Nations Nigeria and Miss Tourism United Nations Nigeria. All the 5 winners were welcomed with thunderous ovations at their announcements as approval of the judges' choices by the audience.
In addition to this, Miss Precious Chikwendu sponsored some of the winners to the international version of the pageant for 2015 which took place in Kingston Jamaica on July 18th, 2015 . By this singlular act she turned around the lives of those that went to Jamaica around and they were catapulted to great success, fame and stardom as two of them won in the respective categories that they contested. The first was a married woman by the name of Mrs. Ebele Chukwu who won the Mrs. Tourism United Nations International crown. The second was Miss Tubosoye Dokubo Charles who won the African Ambassador title. They both did Nigeria proud at the international level.
Other ladies, no doubt, can be inspired through this, believing in themselves, knowing full well that achieving their dreams is always possible if they remain focused and hardworking. What more can one say about Precious Chikwendu, the young lady that made all this possible? What other great achievements does this young lady that is commonly referred to as ''Snowhite'' by those close to her have in store for us? It is obvious that she is a rising star. It is self-evident that she has a compassionate heart that is obviously overflowing with the milk of human kindness. If she could do all these things alone, then one can imagine what she would do when and if she gets the necessary support and recognition from society.
No doubt, at just 26, Miss Chikwendu still has age on her side and the strength and vigor to give more to Nigeria. The next edition of the Miss United Nations Nigeria Beauty Pageant shall be taking place in Nigeria sometime next year. It is not too late for public spirited individuals and corporate organizations to key into this project as a way of not only encouraging our ladies to actualize their dreams but also as a way to further project the image of our great country before the whole world. The next edition of the international version of the event will take place next year in South Africa and hopefully by that time Nigeria will send an even stronger team to represent her.
Finally, for putting our great country on the height of the map of global beauty and intellectual prowess and recognition, Miss Precious Chikwendu, Miss United Nations World 2014, has now been officially dubbed as Nigeria's priceless jewel. Like the precious diamond that she is, she not only shines but she is utterly flawless: of that there can be little doubt. Kudos to her.
Disclaimer:

"The views/contents expressed in this article are the sole responsibility of

Adedayo Adejobi

and do not necessarily reflect those of The Nigerian Voice. The Nigerian Voice will not be responsible or liable for any inaccurate or incorrect statements contained in this article."