E-Payment: Adamawa Govt Uncovers Over 3,000 Ghost Workers...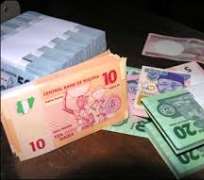 Following the establishment of electronic payment system (E-payment), Adamawa State Government has uncovered 3,000 ghost workers in it workforce.
The Head of civil service in the state, Barr. Musa Kaibo, disclosed the development in an interview with journalists in Yola yesterday confirming that the introduction of E-payment method in the salary payment of workers assisted the government in discovering the criminal trend in the civil service of the State.
Kaibo confirmed that a total of N200 million naira was save monthly to government coffer since the introduction of the electronic pay roll system last year.
"With the introduction of e-payment salary systemic on state civil servants, Government was able to block and detect about 3,000 fake workers and save N200million naira monthly into its coffers." Kaibo said.
He said that before the implementation of the electronic pay roll, the total workforce of the state government was 15,000 and after the verification it dropped to 13,000 workforce.
The head of the civil service, also told head of government department that the aim of the conference is to commend the entire workers in the state for their patience and perseverance during this trying period.
He said that the present administration of the state would soon implement the new salary payroll based on the last screening exercise.
Kaibo said that the state government would fully implement the new payroll in the August 2015, salary with effect from this week.
He observed that following the successful introduction of the system at the state level, the state government has now extended the verification to the local government levels across the state.
"Governor Muhammadu Jibrilla having seen the advantage of e-payment in the payment of worker's salary in the state has approved that this should be extended to our workers at the local governments." Kaibo added.
He observed that the introduction of the e- payment was based on the interest of the workers emphasizing that the payroll system would solve many problems affecting the usual manual approach been used before.
He said that among the immediate solution of e-payment to workers include the complete elimination of fake workers, delayed or nonpayment among others.