Etisalat Reloads EasyStarter With New Features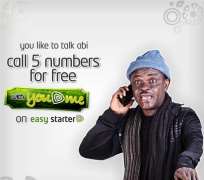 Etisalat Nigeria has broken a new TV commercial to announce additional features on its leading family product, EasyStarter.
The TVC is headlined by popular Nollywood actor, Francis Odega in the testimonial shoot calling his friends on his reloaded EasyStarter offerings.
On the EasyStarter package, customers can now register five 'You & Me' numbers and stay connected to more members of their community of family and friends. Customers on the 'You & Me' platform get free N300 airtime to call any of the 5 'You & Me' numbers for every N200 they recharge weekly.
In addition, the reloaded Etisalat also offers customers free 10MB of data weekly on recharges of ₦100 and above on the EasyStarter package. The new EasyStarter package also offers unlimited connection to 2go, Whatsapp, WeChat, Facebook and BlackBerry for only N150 weekly. Etisalat subscribers can migrate to Easystarter by dialling 200 and pressing 1 or *244*2#.