Gani Adams Is Leading The OPC Down The Road Of Infamy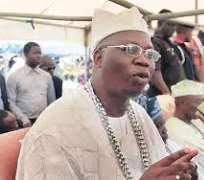 We are compelled to react to the rubbish and misinformation dished out by the Gani Adams and his mouthpieces - in the persons of Yinka Oguntimehin and Adeola Adeagbo- in relation to a letter we wrote to Sen. Bola Tinubu among other Yoruba leaders. In the letter which we wrote to a number of other Yoruba leaders, we stated our political neutrality and rejection of Gani Adams for obvious reasons, bordering on Adams reactionary activities and anti-OPC misdemeanours.
For the avoidance of any doubt, we do not deny the letter to Sen. Tinubu and other eminent Yoruba leaders. There is no need to deny the correspondences as it is not the first time that we would be writing leading Yoruba figures as an organization. In case Oguntimehin and Adeola were not informed by their master, much the same was done in the past when Gani Adams was still seeking legitimacy while he and Fasehun battled for the soul of the OPC.
It is also on record that thousands of correspondences where exchanged between the OPC and prominent Yoruba leaders (Sen. Tinubu inclusive) when the ingrate called Adams was in prison on treason charges. There are living witnesses to the claim above if Oguntimehin and his boss are in doubt.
Rather than seeking a way of resolving his personal issues with individuals, it has become the norm for Adams to turn it into an organizational problem. If Adams pronounces a fatwah on his personal enemies, much in the same way as the fundamentalist middle-east mullahs any member who has anything to do with such a person is labeled a traitor, not minding if there is any prior relationship between the OPC member and Gani Adams' alleged enemy.
Whatever anybody may say, it is on record that the Tinubu who is Adams arch-enemy today contributed much to Adams wedding, financially and otherwise- besides serving as the father of the day at the same event. It is also on record that the house where Adams lived at Abule-Ado before moving to the more upscale Isheri was built solely with funds from Tinubu. We therefore wish to state that Adams quarrels with anybody remains his and his family's problem and should not be foisted on other people.
We have repeatedly stated our desire for a peaceful resolution of the present impasse rather than the pack of lies Adams and his goons are ascribing to us. It is on record that it is the same Adams who has resorted to police intimidation as well as violence by unleashing his dogs.
During the tenth coronation anniversary of the Alagbamu of Agbamu, Kwara State, it was Adams irrational boys that shot at Kwara State OPC members who were protesting Adams' impositions of unacceptable persons on them as well as his interference in what is largely an internal issue of the Congress in Kwara State. A number of lives were lost during that incident. It is also the same Adams who has ordered the arrest and detention of members opposed to him and his proxy in Agboyi-Ketu LCDA, Lagos.
It is also the same Adams who sent Rotimi Olumo Oguntade –one of his agents in Ibadan, Oyo state- and other hoodlums to attack Comrade Adeshina Akinpelu on Monday 17th August. That action, which is not occurring for the first time, has already been reported to security agencies in Ibadan. Not satisfied with the failure of his henchmen, Adams once again at Osogbo, during the celebration of the Osun festival on Friday 21st August, publicly chided his 'killer squad' for bungling the order to terminate the lives of anybody opposed to his satanic regime, and once again issued a fresh directive to the effect that we should be assassinated as soon as possible
Ours is not a personal matter against Adams. As members who contributed so much to get the OPC to it present status, we cannot afford to fold our arms and watch a desperate lunatic bring down the house we strenuously built.
The issue on ground is that Gani Adams must step down; and will definitely step down. No matter the amount of mis-information and intimidation and violence Adams resorts to can save him, in as much as his predecessor was removed from office in 1999 for basically the same offense of partisan politicking. We the members of OPC removed Fasehun and replaced him with Adams; therefore, Adams cannot claim to be beyond the discipline of members. His case is tantamount to 'ila re ti n ga ju onire loo.'
Again, Adams has refused to respond to the allegations of misappropriation of OPC funds among other sundry allegations leveled against him. Rather than the empty boasts and campaigns of calumny he is waging against us in the press, Adams should do the needful and either come clean with the OPC and the public or otherwise retire to Arigidi-Akoko which he claims as his father's village, but which we doubt, because the surname he uses itself, is from his mother's side.
Oguntimehin claimed that 'five organizations with "noble responsibilities" have been birthed' from the OPC.
The first, the Oodua Progressive Union (OPU) is nothing more than a means through which Adams intends to swindle people in the Diaspora much like he has done within the country. The question is, how many meetings have the leaders of the OPC at home had with leaders and cadre of the affiliated OPU since Adams came up with this idea which is nothing more than a con venture?
Secondly, and as stated earlier, Gani Adams does not realize that there is a difference between his person and the OPC as a group. This much has been exposed by the dim-witted response of his spokes-person in listing Gani Adams Foundation (GAF) as a part of the OPC. Millions of OPC funds have in the past been squandered on Adams birthdays and philandering activities without any returns or benefits to the organization. For avoidance of any doubt, Gani Adams Foundation and his wife's Oasis Women Organization are distinct entities from the OPC and numbskulls like Oguntimehin should realize this.
On the matter of the Oodua Economic Empowerment Initiative, we make bold to say it is another diabolical scheme by Adams to swindle OPC members and deceive them into accepting his sinister plans to join the People's Democratic Party (PDP) national cake squandering train. When introducing the scheme, members where told to open bank accounts as well as presenting two identity cards issued by the organization. Since that was done almost a year ago, nothing has come of it, as no member has had his/her account credited with any money despite all of Adams claims. We stand to be corrected on this issue.
The Oodua Research Centre mentioned by Adams mouth-piece exists only as a figment of the imaginations of Oguntimehin and his boss. If this is not the case, let both men tell the whole world when it was created, what activities have been undertaken by the body and where such took place since it was created.
As for the landed property at 13 Olusoga Street, Mushin, Lagos which Adams alleged he personally donated to the OPC in 2004, nothing could be farther from the truth than this bare-faced lie. The land has been the venue of our weekly meeting since the late 1990s. It is the scene of many skirmishes with law enforcement agents. Because of its intrinsic value to the OPC and its early history, a decision was made to acquire the land for the organization. This was done with the aid of one Pa. Augusto of Lawanson area, Lagos for the princely sum of four million naira which was contributed by members of the OPC. This was augmented with funds from the money from a job the OPC executed at Oke-Alo area, Anthony Village, Lagos as against the claims of Oguntimehin and his boss. There are many living witnesses to that transaction and we challenge Gani Adams to prove otherwise.
Our demand of Gani Adams is simple; stop bastardising our collective heritage and leave the OPC for genuinely committed members. Whatever grouse or axe he has to grind with anybody, Adams should find a way of settling his personal scores personally, rather than foisting it on the group as a whole.
His interview with The Punch newspaper has proved us and our fears right. Adams problem with Tinubu is a personal one borne out of ego. In the interview, Adams revealed that his grouse with Tinubu is purely based on material considerations. Adams has this to say in justification of his attempt to cut off the nose in order to spite the face. '…Somebody who has been working to block my progress for the past seven years; if I support him to be in power, he will do worse.'
He went further to state among other things that, 'Even though he (Tinubu) is supporting the right person, I will go for the wrong person.' It would be the height of insanity to follow or refuse to question such irrational leadership trends especially hen there are thousands of sane individuals within the group.
If we are being accused by Adam of politicking by taking our matter to his arch-enemy among other venerable Yoruba leaders, what would he call himself, who claimed in the interview with The Punchthat during the Eledumare festival, he had told his members that 'now we are supporting Jonathan as our candidate, but that does not mean we are thugs of the PDP…'
Adams has on many occasions publicly justified his political bias for the PDP and Jonathan. He got contracts to print PDP posters for the whole of the South-West, organized pro-PDP rallies, arrange Yoruba musicians for PDP rallies as well as sponsoring one musician by the name of King to do a dirty album to discredit and insult President Buhari and governor Ambode of Lagos State among others. Who now is the politician between us and the con artist called Adams?
The truth which is glaringly evident is that, Gani Adams has done far worse than his predecessor. He is not just romancing with politics, but has fully plunged into it head over heels. And he has not brought any commensurate gain to the organization, as he is the only one buying houses worth 500 million naira and many luxury cars in the region of eighteen million naira while the average member remains pauperized.
In conclusion, we once again restate our commitment to the Yoruba people and their causes rather than one overhyped megalomaniac. The OPC remains a tool for the furtherance of the Yoruba cause. Whatever grouse Adams over bloated ego has is his personal problem and the million of other OPC members should not be dragged into it.
Yours faithfully
For: Oodua People's Congress (OPC)
National Coordinating Council (NCC)