How Jesus Negotiated With Terrorists: A Lesson For Buhari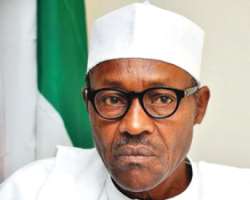 I remember my late mother for a number of things but none, I must admit, is stronger than the memories of the biblical stories she told me in my childhood. Today, seventeen years after my mother's demise, I still very greatly wonder the manner of pervert young man I would have grown up to become if she hadn't told me those timeless biblical stories to instill awe and morals in me.
It was my mother who first told me the biblical story of the fall of man, owing largely due to Eve's gullibility, in the Garden of Eden. It was also my mother, bless her noble soul, who first told me the story of Samson and Delilah - how Samson's towering strength melted on the laps of a woman. Naboth and Ahab. David and Goliath. King Solomon and the two prostitutes. Moses and the red sea. My mother told me all these stories.
Regrettably, I have not grown up to become a pastor and, frankly, I don't see myself becoming one in later years; nevertheless I must very strongly admit that the Holy Bible, which consists of two arguably contradictory and complimentary testaments, is the most illustrative book I have read. It incredibly profers solutions to real life challenges.
In a morning devotion I had a few weeks ago, I surprisingly stumbled on a passage that has been read in all known Sunday school classes. I was surprised because I had never seen that passage from the perspective I saw it that lively morning. It was a passage the reader is probably familiar with. It was a passage on terrorism. It was Mark 5:1-13.
In the passage, Jesus encountered a certain man whose life was in the strong grip of unclean spirits - terrorists. These unclean spirits, being greatly ruthless, had tormented the man day and night, driving him into the mountains where he cut himself with sharp stones. The man howled at night, making the neighborhood restless.
The man, the narrator says, has been bound by huge chains but, refusing to be tamed, has put them asunder. The man was hopeless and the neighborhood was helpless. But a Messiah soon arrived.
When Jesus arrived, the terrorists in the man immediately submitted themselves to Jesus. Jesus, one would have thought, would immediately destroy all the terrorists in the man but an enigmatic negotiation soon started. The terrorists begged for mercy, mercy to live in a nearby herd of swine. And Jesus, though having the power to destroy, agreed that the terrorists should leave the man and go into the swine - a kind of horse trading?
A lot of questions ran through my curious mind during the devotion. I wondered what would have possibly happened if Jesus had refused to grant the terrorists their wish. I knew that Jesus, being very powerful, would have succeeded in liberating the tormented man, but I doubted if the terrorists would not reinforce after Jesus had left and come back to destroy the liberated man. Jesus himself mentioned this possibility (see Matthew 12:43-45).
Now I turn my attention to the security situation in northeastern part of Nigeria, which has become less safer than a lion's den. In that region, what started out as a ragtag religious sect has become full blown terrorist group - Boko Haram. The Jonathan administration spent well over 1 billon dollars on terrorism alone, yet very little success was achieved. Abubakar Shekau, the notorious Boko Haram leader, was killed severally in gun battles, but his life has proven to have a spare. It was during Jonathan's regime, also, that the, some say mythical, Chibok girls were abducted.
President Jonathan's fight against insurgency reached his climax in his last days in office and Nigerians will remember him for it. Nevertheless, claiming that Boko Haram was a faceless group, Jonathan refused to negotiate with Boko Haram. What was the result? A resurfacing and reinforcing Boko Haram.
President Buhari is now the new messiah to lead Nigeria in the fight against insurgency. But, frankly, what fight can President Buhari put up that the Jonathan administration didn't? For me, it's nothing. It is high time we negotiated with Boko Haram. What does Boko Haram want? What will they take to return the Chibok girls? Does Boko Haram want oil money? Nothing is too big to sacrifice for peace. President Buhari must understand that there's much reward in negotiations than fighting. It is even more foolhardy to fight a group which has nothing to lose. Let the president borrow a leaf from Jesus.
-Ademule David is a student of human society, he writes from Lagos.
Twitter: @ademule_David
WhatsApp:+2348166299046

Disclaimer:

"The views/contents expressed in this article are the sole responsibility of the author(s) and do not necessarily reflect those of The Nigerian Voice. The Nigerian Voice will not be responsible or liable for any inaccurate or incorrect statements contained in this article."
Articles by Ademule David