Open Letter To His Execllency, Muhammadu Buhari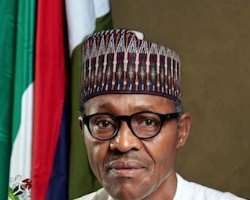 OPEN LETTER TO HIS EXCELLENCY, MUHAMMADU BUHARI, PRESIDENT AND COMMANDER IN CHIEF OF THE ARMED FORCES, FEDERAL REPUBLIC OF NIGERIA ON YOUR AVOWED STANCE TO PROBE JONATHAN'S ADMINISTRATION ONLY: HEIGHT OF INSINCERITY AND ABBRASSIVE DISREGARD TO DECORUM.
Mr. President, we as human rights activists welcome anybody, any system or any organization that saliently puts itself out to stamp out corruption from the geo-polity of Nigeria. We mean, it is comely and beatific. What else could one say that would make him happier than seeing looters of the treasury nabbed, tried and the looted fund collected whole and entire from the sawdursters and societal aggressors?
It is a fait accompli and hilarious to watch tenpercenters and sawdursters of the treasury not necessarily lampooned and goaded but made to face the music. It is tetratonic rewarding and balances equity in reasoning and instils fear in the led and reinforces strength in the leaders. The society is the better for it.
But Your Excellency, much as this is palatable politically and developmentally speaking, it is wholesome obnoxious and unthinkably inhuman and vindictive to be partially selective in this fight. Mr. President the adage, call it a dictum "those who live in glass houses should not throw stones" fits in here appropriately. Mr. President, the holy writ says "you that say a man should not commit fornication, do you commit fornication; you that say a man should not steal, do you steal"?
Mr. President, Igbo proverb says "if you treat a child like his mates, he becomes happier". For you to come out in the open and single out Jonathan's Administration for probe leaving out others since 1960 Independence would suggest one thing – those other regimes were NOT CORRUPT: did not loot the treasury.
Your Excellency, are you saying that all regimes right from Tafawa Balewa to Obasanjo, to wit, from 1960 October 1 to May 29, 2007, did not loot the treasury? Your Excellency, the Holy writ says "wisdom is the principal thing, and in all thy getting, get understanding". What could be the wisdom of exonerating boisterous looters of the treasury as we all know it, from October 1, 1960 to May, 29, 2007? Please what is the reason? What could be the justification for it, Sir?
Your Excellency, are you saying that:
Tafawa Balewa and his Cohorts were not corrupt?
Yakubu Gowon and his Team were not corrupt?
Murtala Mohammed and his Cabinet were not corrupt?
Olusegun Obasanjo and his Operation Feed the Nation Policies and Team Players were not corrupt?
Shehu Shagari and his Umaru Dikko and Alex Ekwueme Team were not corrupt?
Mr. President, do you want to tell us that even you were not corrupt with Tunde Idiagbon in anyway in your time?
Ibrahin Babangida with his World Bank loans and SAP Riots were not corrupt?
Shonekan and His Team were not corrupt?
Sani Abacha and His Men were not corrupt?
The Ephemeral but Supervenously corrupt Regime of Abdusalami Abubakar was not corrupt?
Olusegun Obasanjo with his PHCN, Halliburton, Siemens, Scandal and all worth not, was not corrupt?
Mr. President, the adage that "he that goes to equity must go with clean hands", seems to beg you for consideration in this your "Sanctimonious" stance in this your touted fight against corruption.
We know that boko haram are doing what they are doing as disciples of their grand master because as Igbos would say "whatever snake delivers must be long" That bespeaks of leadership by example. As a father, if you sermonize in your house that none of your children should smoke, and in their presence, you boldly smoke, then sorry is your name as a preacher that "smoking is dangerous to health"
English man says "the proof of the pudding is in the eating". It is not necessarily what you say with your mouth that matters, but clearly what you do. The adage that "action speaks louder than voice" is an altruism.
Mr. President, recall that your name has been dragged to the mud of supervenous corrupting right from Murtala – Obasanjo Regime of May 29, 1975 to September 30, 1979; January 1, 1984-August, 1985 and between 1995-1998. Mr. President, recall also that Certificate Saga puts question mark to your integrity in 2015 General Elections. After swearing in, your Private instead of Public Declaration of Asset added salt to injury to your quest for integrity no matter how you look at it.
We as activists believe that a word is enough for a wise, and so you as a wise person could have detoured from this your contour of probe, probe, probe… Probe Jonathan Administration alone…, to either probe all since October 1, 1960 as a "Sanctimonious President" you are, or better still, leave probe, probe, probe and fix Nigeria that has been battered by misgovernance.
But now, Mr. President, instead of approaching equity with clean hands, you have decided to throw caution to the winds by singling out only Jonathan's Administration for probe against all advice to approach equity with clean hands. Since the society is already poked by you, and since contentious issues of looting the treasury has been unjustifiably boxed in to only one administration since October 1, 1960, and for the fact that he that is down needs no fall, we humbly stipulate inter alia, some notable cases of either abrasively naked corruption by you or openly Jihadic and terrorist incitation by you as a leader since we know you right from May 29, 1975 till date:
N2.8 billion equivalent to 5.6 billion US Dollars was vanished in the Petroleum Ministry's Account with Midlands Bank United Kingdom when you were Petroleum Minister in Murtala – Obasanjo Administration. Recall that you cannot claim ignorance of this because after assuming office as a Dictator in 1984, you mandated Ayo Irikefe of the Supreme to pronounce you and Obasanjo guiltless, which Ayo fretfully did: he had no choice. 5.6 billion US Dollars in 1978 converted to naira in 2015 means that as Igbos would say "sheep chew, lizard chew". It means every Nigerian will be a millionaire because supposed Nigerian population is 150,000,000, every single Nigerian would receive nothing short of N5,000,000. That is the quantum of money that missed under your tutelage. How can you claim ignorance of this Mr. President?
Somewhere between 1984 and August 1985, the issue of 56 – suit cases came up called "Executive Suites". Whatever that meant to the then Colonel Umar Kangiwa, we don't know, but we do remember that you have a case to answer in that high-wired racket of corruption. It is certain that billions of US Dollars went down the drain as assuredly packed inside the suit cases undetected under your tutelage again.
In 1995, the so-called corrupt Abacha appointed you the Petroleum Trust Fund (PTF) Chairman after Abacha had offered Honourable Major-General Tunde Idiagbon the same offer but, Idiagbon rejected it which paved way for your acceptance. We had expected you to have rejected serving under the "corrupt" Abacha Regime, but that was to the winds and gallows as you joyfully embraced the offer.
Acceptance of such could not have made any meaning had you scaled through corruption hurdle as PTF Chairman. In 1999, as Olusegun assumed office as President, your stewardship was tried by a Panel of Inquiry headed by a Co-Fulani man which found Afri Consultium (APC) firm as the sole contractor of PTF over which you were a major shareholder, guilty of siphoning or mismanaging 25.76 billion naira. So, the Panel indicted you. Obasanjo coming in 2015 merely to cury favour to please you or do we call it fear of you, saying that you were not found guilty of 25.76 billion naira in 1999 is not necessarily only double tonguing, but surely abrasive disregard to sanctity and anti-corruption. It is not about Obasanjo as a person, but about what was discovered in his Regime as quantum of corruption you (Mohammadu Buhari) committed as PTF Chairman using Afri Consultium. How do you see to that Mr. President in your holier-than- thou attitude in this your fight against corruption?
In 2000, Oputa Panel was instituted as you have inaugurated Saggay Commission of Peace now, to try various cases of corruption by Public office holders and causes of divergent interests and disunity and reconcile for national unity. You blatantly refused to come and voiced it out that you were not going to honour the invitation as IBB also said. Mr. President, would want people to honour Mr. Saggay commission? Remember that one good turn deserves another.
Somewhere in 2002, it was a generally held view that you were the Chief Launcher to a book titled "Western Education is Sin" to buttress bokoharam activities. The book was launched in a Northern Nigerian Town.
Sometime in 2011 – 2012, you were quoted clearly and conspicuously to have said that "Fighting bokoharam is fighting the North".
Somewhere in the same period, you were quoted to have clearly said "I will make Jonathan's Government ungovernable"
In 2005 March, in an interview with BBC in London, you were quoted to have said that when elected "I will not only make Sharia Compulsory in Nigeria but in entire Africa".
Recall that in 2013 when bokoharam was considering negotiating with Federal Government, they (bokoharam) appointed you (Buhari) their spokes man or Go-between.
When you were sworn in as the President of Nigeria, on May 29, 2015, you were reluctant to declare your asset and when you did, you did it SECRETLY so that Public cannot know or publish it or query you which is as good as not declaring at all.
Mr. President, it is erroneously believed that you have no house of yours befitting your status anywhere. But it is on record that you have house in London as well as in Abuja apart from the one in Kaduna costed above 2.1 billion naira. Mr. President, can you challenge this?
You have made 11 appointments so far as Head of State, 9 of them are hardcore Fulani-Hausa muslims. Mr. President, in the light of the twelve (12) issues raised above, it has become very clear that whatever is your reason for probing Jonathan's Administration alone and alone cannot be sustained no matter how you sermonize your own (half truth) sanctity. It tantamounts to witch-hunting Jonathan on the platform of holier-than-thou-attitude when you are living in glass house, but throwing stones in your fight against corruption.
OUR HUMBLE ADVICE
My dear President soft-pedal on the slippery terrain of war against corruption in Nigeria except you start from yourself. Any fight against treasury looters not starting from Yourself as Former Petroleum Minister, as Former Head of State and as Former PTF Chairman cannot work, but is mere sabre rattling and skewed idiosyncrasy of a selfish tyrant.
It is our humble and amiable advice that you forget the witch-hunt and clamour for probing Jonathan's Administration alone and concentrate on the weightier matters of fixing Nigeria by articulate governance, until such a time when treasury looters, starting from you yourself, would return their loots and Nigeria would be the more better.
For now, it appears that while you are living inside glass house, you are throwing stones. This should not continue. Your Excellency.
This piece is submitted by a Human Rights Group:
Rights of Man Keep, ROMKEEP.
080-3666-2901 & 080-9595-7698

Disclaimer:

"The views/contents expressed in this article are the sole responsibility of the author(s) and do not necessarily reflect those of The Nigerian Voice. The Nigerian Voice will not be responsible or liable for any inaccurate or incorrect statements contained in this article."
Articles by Kindness Innocent Jonah