SNA Claims Victory Over Clashes With Al-shabab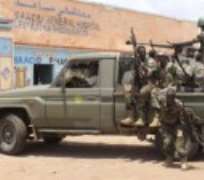 Suspected Al-Shabaab fighters have yesterday ambushed SNA military convoy heading to Gerilay town, prompting hours of fighting, military officials say.
Osman Nooh Haji, SNA military commander In Gerilay locality, said Al-Shabab fighters have attacked the convoy from different directions but the soldiers managed to repulse them, killing number of attackers in the process.
"We were ambushed by Al-Shabab fighters, luckily we suffered no casualties but we killed three fighters and burned one of their technical vehicles" he said.
Al-Shabab fighters did comment on the attack but Al-Shabab has carried out several deadly attacks on Government institutions, army camps and hotels, latest being on Thursday when the gtoup's fighters attacked SNA military base in Gariley locality of Gedo region killing the commander of SNA soldiers in Geriley locality.
Heavy gunfire was reported that lasted for several hours, with the Shebab briefly taking over the camp and killing some of SNA soldiers including the commander of the camp before looting supplies and leaving.
AMISOM and Somali National Army have been advancing to Al-Shabab controlled areas latest being Bardhere town that used to be the largest stronghold for Al-Shabab's top officials and its foreign jihadist fighters before they fled after heavy military assault by the Somali government forces and the African Union mission in Somalia [AMISOM].
Gedo News Network Media.
Office In Somalia,
Hassan Abdulle, Kismio