WHY BALA, FCT MINISTER, MUST KEEP RUNNING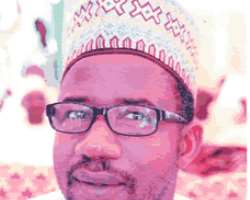 Celebrated English writer and poet, Rudyard Kipling (1865 - 1936) wrote in 1910: 'If you can keep your head when all about you are losing theirs and blaming it on you; if you can meet with triumph and disaster and treat both equally; if you can talk with the crowd and keep your virtue or walk with kings without losing the common touch; …yours is the earth and everything that is in it'
I don't envy the new Minister of the Federal Capital Territory (FCT), Senator Bala Abdulkadir Mohammed (Bala for short). For him, there is so much to do and so little time available. Yet he is condemned to making a profound impact within the sparse time left for him. One credo the minister must have on top of his mind as he hits the road running in his new office is that the first or beginning step in any journey tells the distance that will be covered at the end.
As aptly pointed out by Kipling 100 years ago, the minister needs to be a steely man of his own conviction, a leader with few words and more action. He should be guided by the words of the American Republican statesman and 26th President of the US (1901-1909), Theodore Roosevelt that if you want to go far, you should speak softly and carry a big stick.
To succeed, Bala must be ready to step on any toe that stands on the way, whether powerful or weak. In doing so, he must not look at faces and thereby succumb to shylock tears and emotions; rather he should stick to action primed on legality. Good works are what the law-abiding FCT residents are craving for because it is example and not precepts or rhetoric that does the magic. Those who appointed him also want him to deliver. From day one should be conscious of the fact that there are two groups of people living in the FCT - those who abide by the law and those who break it. The latter are the enemies he must fight all through or else they will overwhelm and destroy him.
I have no doubt in my mind that Bala has the requisite strong stomach for the crunchy task at hand. While he belts for the challenge, he should be driven by his will power and be wary of the army of well wishers, advisers and friends because many of them have nothing to offer. The same thing goes for the horde of masquerades with the seductive festoon of royalty and creed who will assuredly strive to swim around him, like bees to nectar, claiming to love him more than anybody. He should not be ensnared by their coated tongues and charmed gifts because they did the same to all his 14 predecessors since 1976.
Most of such characters will only be flocking around him because of what they hope to gain and not what they can contribute. Ipso facto, the minister should bear in mind that the FCT portfolio is not a platform for politics but an arena for performance.
He should be courageous and firm. At the end, his legacy will be determined not by how much praise he received while in the saddle but the quantum of work he did. In other words, what he does will go a long way to determining the attitude of the rest of the people in the FCT towards him. The first step matters. He should as far as possible avoid pulling large crowd in order to remain strong, focused and uncompromised. In the FCT, it is likely when you are fairly detached, in the 'minority'; when you are dubbed 'Mr. Bad' that you may be on the right track because you need reasonable concentration to be able to strike the right chord.
In doing the right thing, the minister, while talking less, should have his aides on throttle, enlightening and debriefing the residents, explaining policies and actions as rigorously as possible while reinforcing the teeth of enforcement agencies in the territory. In recent years, the FCT has transformed into lawless jungle where people flout rules and regulation at whim. Some break the laws due to crass ignorance arising from inadequate enlightenment on the part of the FCT authorities.
What stops the authorities, for instance, from stepping up radio/TV jingles, distributing leaflets in Karamajiji, Giri and Galadimawa and other settlements advising residents against erecting illegal structures or buying land from local chiefs and so-called indigenes? Why wait until the illegal buildings spring up in their hundreds before you begin to vote hundreds of millions of naira for their removal? Why ignore the causes and wait for the symptoms to appear before you act thereby limiting your action to the surface and ignoring the root?
Apart from pursuing a pragmatic and unflinching policy on illegal structures based on zero tolerance, Bala should speedily implement the FCT light railway project. The project which has been in the pipeline for so long should be stepped up to help decongest the capital city. Also, far flung areas of the FCT such as Abaji, Rubochi, Chikuku, Karshi and so on should be made attractive by connecting them to the city with cheap and reliable transport module. The population of the territory that would be displaced as a result of illegal structures removal within the Federal Capital City (FCC) will benefit handsomely from this. The present mono-modal transportation system in the territory is not the best. Apart from transportation, other basic needs like water, electricity, schools and health facilities must be provided in the area councils to make them more attractive to live in.
Another area that Bala must look at critically is mass housing development. It is a pity that most developers who were allocated several hectares to build affordable houses for residents have turned the estates into abodes for the super rich and the highest bidder. The same land allocated to them virtually free of charge are being sold to people with specified building designs at cut throat prices.
Having read this, Bala, you must act now because time is ticking inexorably. On that seat, time is your greatest enemy; you must keep running, doing the correct things and fast too, else you are flat and out.
An encounter with Rimi
My last encounter with the late governor of old Kano State, Alhaji Mohammed Abubakar Rimi was on December 29, 2009 at the Minna Hilltop residence of former military President, General Ibrahim Babangida. He was in Minna, like several other calibre sympathizers to condole with Babangida over the death of his wife, Maryam. That time, the argument was raging in the country over the propriety of President Umaru Yar'Adua proceeding on medical vacation abroad without notifying the National Assembly to pave way for his deputy, Dr. Goodluck Jonathan to act in his absence as provided in section 145 of the 1999 constitution.
Being a very flamboyant and colourful politician, Rimi pulled quite a crowd of supporters and praise singers around him that day. That made it difficult to pin him down to a short interview. When I eventually pushed my way through to his front in company with about three other colleagues from other media organizations to request for a chat, he gave his condition – We must mobilize a crowd of reporters before he could talk with us. When we gathered about six journalists, Rimi who was almost walking out of the compound at that time, again raised the hurdle. He looked around, sized up the number of newsmen present and blurted, 'Gentlemen, where are the TV cameras, where are the radio reporters; it's like you people are not serious'.
At that stage, I almost gave up hope of interviewing him but my colleague, Alhaji Lateef Ibrahim of the Compass newspaper persuaded me to tally. After Rimi's conditions were met, he spoke extolling the virtues of late Maryam, particularly her devotion to Islamic religion and the establishment of El-Amin International Schools in Minna and Abuja. He disclosed that one of his own children and his grand child studied there. Whatever the late Maryam touched, there were always the distinctive finesse and class about it, he said.
Commenting on the political situation in the country, Rimi saw no compelling need for Yar'Adua to have written the National Assembly before travelling to Saudi Arabia for medical treatment. He also maintained that Vice President Jonathan was already acting as president and that there was no need for all the 'noise' being made about not handing over to him. The former governor also declared that Yar'Adua would continue in office as president as long as he was alive and that there should be no talk about declaring him incapacitated. The excerpts from the encounter were published in the Daily Sun early January.
That day, Rimi later gave me another telephone number of his and directed that I should contact him in Abuja for a more detailed interview. I forgot and never followed up the appointment. I received the sad news of his death while I was in Asaba during the Easter break. I was devastated and filled with disbelief.
Rimi had high self esteem while being extremely blunt. His courageous and daring approach almost verged on arrogance. He was not a man to be pretentious about what he wants or his opinion. He states his mind boldly and unapologetically without minding the consequence. Rimi was stately, domineering and good looking. In him, the earth has swallowed one of the most elegant ones among his generation. May his soul rest in the bosom of the Almighty.