Governor Bindow Solicits For More Pilgrims Seats For Christian Community In Adamawa State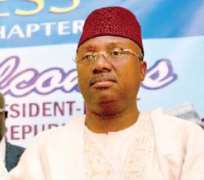 Governor Muhammadu Umaru Jibrilla Bindow has called on the National Christian Pilgrims Commission to increase more seats to enable more Christians in the state to observe this year's pilgrimage.
The Governor, who made the call when Executive Secretary of the Commission paid him a courtesy visit in the government house in Yola, explained that he appreciate the support of Christians during the election that brought him to office.
He narrated that he accords respect to religious leaders and urged that he will be fair to all people irrespective of their religious affiliation.
The Governor, who presented the Executive Secretary with a gift stressed that he is doing everything possible to meet the needs of people of the state.
Speaking earlier, Executive Secretary of the National Christian Pilgrims Commission, Mr. John Kennedy Okpara extolled the governor for his humility and composure adding that God made it possible for him to lead as governor of the state.
He commended him for commencement of road projects in the state and called for more financial support to allow more people attend.
The Governor also said that,four christian pilgrimage are observed yearly and stressed that youth are trained in agricultural skills in Israel to provide job opportunity to youths as well as lessen dependence on government.
While describing Israel as leading in agricultural skills in the world, the Executive Secretary pointed out that the commission is working along side with Nigeria Lottery in order to make funds available to those who are lucky to embark on pilgrimage.
The Executive Secretary, who presented the governor with the approved package of pilgrimage for the year, was accompanied with North East Coordinator of Christian Pilgrimage Arch Bishop Nemuel Baba. CAN Executives among others.