Six Intercontinental Bank Plc Officials Remanded Over N18 BN Fraud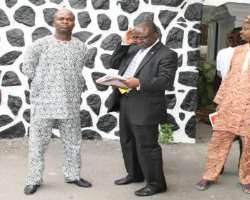 PHOTO: SOME ACCUSED STAFF OF INTERCONTINENTAL BANK PLC IN COURT ON MONDAY. L-R: MR. BAYO DADA, MR. AYODELE THOMAS AND MR. AKINWUMI SOLOMON.
San Francisco (THEWILL) - Six top officials of Intercontinental Bank Plc and five companies were on Monday, January 4, arraigned before Justice Tijani Abubakar of a Federal High Court, Lagos Division, by the economic and Financial Crimes Commission, EFCC for diverting over N27 billion naira depositors funds.
The accused persons; Akinwunmi Solomon Fabunmi, Toyin Odesile, Ayoola Ayinde, Bayo Dada, Oluwatoyin Oyelade and Ayodele Thomas pleaded not guilty to all 12-count charges bordering on money laundering, illegal transfer of depositors funds, criminal conspiracy, fraudulent conversion and fraudulent withdrawal. However the seventh person Mr. Raymond Obieri who was a director of the bank could not be arraigned with the others because of an illness.
The Companies; Regal Investment Limited, Tropics Securities Limited, Tropics Properties Limited, Tropics Finance and Investment Limited and Bankinson Nigeria Limited, all belonging to sacked fugitive managing director, Mr. Erastus Akingbola also entered a not guilty plea.
The accused persons had allegedly withdrawn over N18 billion naira from the bank on the pretence of using the funds to purchase shares between March and June 2009.
They were also alleged to have fraudulently transferred $11.84 million dollars on March 12, N2.3 billion naira on May 9, N2.7 billion naira on May 15, N2.8 billion naira on May 15, N3 billion naira on May 21, N10 billion naira on May 11 and N8.6 billion naira between May 27 and June 30, 2009.
They were jointly represented by 11 lawyers and are remanded in the EFCC custody by the judge.
Their bail application will be heard on January 6, 2009
|
Article source