'OUR PROMPT CLAIMS PAYMENT HAS PUT MANY FIRMS BACK ON TRACK'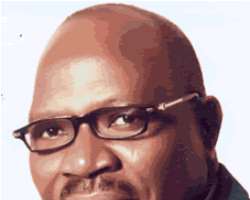 Managing Director and Chief Executive Officer of Goldlink Insurance Plc, Mr. Femi Okunniyi, a lawyer and pastor, spends his time outside the office either doing some spiritual exercises such as praying, or embarking on physical exercises, jogging or swimming. He attributed the rising profile of his company to Divine Providence. To him, without God, he would have achieved nothing.
Okunniyi believes that allowing Dr. Jonathan Goodluck as Acting President has solved a very intractable problem in the polity even as he pointed out at the challenges confronting the government as in the area of infrastructure, security, power and the oil sector, which he said, are affecting investors adversely. The insurance chief noted that the capital market crisis of last year affected the economy negatively and said that the opportunity is not there now. Public confidence, he said, is not there now.
He called for government's intervention to make the market reliable again.
In this interview, Okunniyi, who is Chief Executive Officer of the week, spoke about the challenges of running an insurance company in Nigeria, the effect of the global economic meltdown on the insurance environment and the economy in general. Excerpts.
I must confess to you that 2009 was a very challenging year for us. It was a very tough year for the world economy. We all experienced the downturn. It put a lot of challenge to operators in the insurance industry.
We looked for ways to overcome the challenge. We did a lot to add value to our operations. We setup committees. We were able to deliver to stakeholders and to add value to our clients. The committees came out with a blueprint and we held management retreat and after the retreat, we were able to come out fairly well at the end of the year.
About Goldlink
From inception, we have been dynamic, very focussed, we have sound directors who have foresight, people with impeccable character. Our management team is the best and well-trained in the industry. Our knowledge of the market, our team-work and supported power of God, we were able to overcome many challenges. Our character in the market makes us to stand out as an insurance company of high repute and darling of our clients. We are able to deliver to them a very good service. Our service delivery is one of our focuses. Goldlink is a good brand in the insurance market.
Our record is there to speak for us. The Global Credit Rating (GCR) gave us grade 'A' after looking at our records. They had interaction with us. That was how they came out with their grading.
The global rating agency, GCR, awarded Goldlink Insurance Plc an 'A' rating for the current year. The company had also been rated 'A' for the immediate past year.
GCR observed in its report that Goldlink exhibits a significantly strengthened balance sheet with a sound international solvency margin. The report noted the company's ' consistent increases in underwriting and net profits over the review period.' The report also pointed out the company's display of robust underwriting margin coupled with its impressive peer-to-peer rating, which lent credence to the 'A' rating.
One major area of strength of the underwriting company is its impressive participation in the oil and gas insurance business. The company is on the insurance accounts of almost all the major oil companies in the country. Another area of strength is in the motor business where the company is one of the market leaders.
The report observed that the underwriting margin of the company remains robust. Another major highlight of the rating report is the observation that 84 per cent of the company's income for the year of assessment came from hard core insurance business which is an indication that the company has remained faithful to its core business of underwriting. This is the cumulative result of continuous innovations in product lines, effective human resource management practices and the deployment of state-of the-art technology. The company has just rolled out top-of-shelf software for its operations across the country.
The report also noted that the liquidity of the company remains sound notwithstanding a relatively higher increase in claims incurred for the year. Apart from sizeable levels of other investments by Goldlink, its reinsurance programme is protective enough down to maximum net retention. It noted management's stated intention to further boost non-cash investments going forward.
In the opinion of GCR, the level of provisioning in the Nigerian insurance industry generally is low and thus the highly-favourable loss ratios reported in comparison to other African markets are not considered sustainable.
Goldlink's strategic focus is to increase its market share to around 10 percent within the next three to five years. To achieve this, management has indicated that increased emphasis will be placed on introducing new products as well as on expanding its channels of distribution.
Also, a more aggressive investment strategy is envisaged, with the aim of generating higher investment returns to support solvency. 'Goldlink Insurance Plc is known for its uncompromising culture of prompt claims payments over the years. It is one of the leading insurance companies with branches across the country. It was listed on the floor of the Stock Exchange in February, 2008.
Annual management review
We have a review of what we do annually. We hold management retreat annually. We look at the past, present and look into the future. We plan long- term projects, vision and short-term projects. We review all these. This is what we do to set out a better plan each year to see that we accomplish them with determination. We have a cutting edge that gives us against competitors.
Challenges to our business
We have nothing to fear in 2010. Our budget was approved by the board. With full determination, we will meet our target for the year. We look at the indices, and look at the challenges in the market. Considering that a government with leadership for sometime, Dr. Jonathan Goodluck, as Acting President, that has solved the problem. But the challenges of government are still there, especially in the oil sector. It has affected investors. Energy has been the major factor. If energy problems can be solved, it will be better for us.
I believe that the Federal Government budget, if approved and implemented on time, a lot of changes will be made in the economy. Nigerian roads are in deplorable state, the issue of petroleum deregulation are challenges of the economy. It affects our business. It also affects the investors. The capital market crisis affects the economy. It is a process the public quoted companies can access funds. The opportunity is not there now. Public confidence is not there now. Something has to be done to make market become visible again.
Government must do more than just talking on the issue of getting capital market on track. Thank God, a new Director-General has been appointed. We hope that by this effort, it may allow the market contribute effectively to the economy.
The restructuring of Goldlink shares
Goldlink Insurance shares have been restructured and all the regulators, National Insurance Commission (NAICOM) and Security and Exchange Commission, (SEC) have approved it. The aim is to reduce the volume of shares and firm up its price. Our result will speak for us during trading in the Nigerian Stock Market. We look at the opportunity in the Nigeria stock market, so that its true value can be sustained.
Claims settlements
Goldlink Insurance Plc is one of the firms operating the country that has in three years, between 2007 and 2009 paid out total of N3. 4 billion as insurance claims settlement to our policies holders.
The breakdown of the figures is: In 2007 alone, we paid total claims of N833, 866. 000, out of which N601, 001, 000 was paid on Non-Life, while Life took N232, 865, 000. In 2008, the claims settlement figure of the company stood at total of N1, 085, 448, 000, out of which, N745, 234, 000, was paid on Non-Life, while Life business claims stood at N340, 214, 000.
Last year (2009), we settled claims totalling N1, 466, 518, and 000. Also N818, 714, 000 was paid on Non-Life, while claims payment on Life business, stood at N647, 804, 000.
Goldlink is well-known as one of the companies that pay claims promptly. We see claims as acid test of any Underwriter. Our ability to pay genuine claims has made us stand out among out competitors. Our good service delivery includes ability to pay genuine claims promptly. This is what we stand for. In 2007, we paid total claims of N833, 87 millions; in 2008, we paid claims totalling over N1, 085 billion, and in 2009, we paid out about N1, 5 billion claims.
This is to tell you that people whose factory would have folded up because of our ability to pay, we have put them back and they have continued to contribute to the nation's economy. About non-genuine claims, which are often exaggerated, when we get such claims, we would normally investigate and deal with them appropriately.
We have Investigators and Adjusters, Assessors, who are professional that help us, do investigation, and after their investigation and recommendation, a decision is taken to deal with such claims. Payments of genuine claims, it depends the class of insurance; within a short period they are settled.
Policy makers
Good policy is required to encourage operators. There is need for interaction, so that they can hear our views on the policies that affect our operations. When they hear our views, which are mainly experts' opinion, it will help them to come out with better policies that will improve the economy and the welfare of the Nigerian people. It will also help to develop the economy more.
Workers' welfare
The human capital has always been the most important factor in the organisation and as a result of this, we put a high premium on staff development. We encouraged them and it helps us to avoid losing the good hands that we have by increasing their career growth for them. The people here in Goldlink Insurance have been greatest contributors to our growth. And as such, we invest on them.
New products
We have new products we called 'Schools Safety Policy.' The scope of cover and purpose include provision of indemnity for: Automobile, like school buses and cars; Group Personal Accident cover for proprietors, pupils and teachers on 24 hours, All risks insurance cover on electronic equipment, accessories, fixtures, fittings and facilities used as teaching aids; and premises risk, covering building against fire, burglary and or liability to third party.
The cover applies 24 hours a day without geographical limitations or restrictions.
It allows parents and guardians with children in primary, secondary and tertiary institutions to receive financial compensation. It reduces schools turnover rate of students due to the death of their parents or sponsors. The premium is affordable, and can be paid once or on instalment. No stress of obtaining letter of administration from probate registry as to when an estate is set up for the dependants, and we offer very attractive group discount and simple underwriting procedures.
'Goldlink Travel and Tours Insurance,' is our new insurance policy which provides the widest ever in the market. This product satisfies the strict and conditions for issuance of visas to any of the Schengen countries. It provides for medical expenses assistance for treatment received by any policyholder travelling to any of the Schengen countries. It also provides for international SOS Service Programme to cover medical evacuation and repatriation.
The policy is for travellers to all the Schengen and other countries in Europe for individual, families, sportsmen and women, tourists, schools, clubs, societies association and employees of corporate bodies. All the Schengen countries, which include France, Germany, Iceland, Luxemburg, Italy, Holland, Belgium, Sweden, Denmark, Greece, Finland, Norway, Spain, Portugal and Austria are the territorial limit for the policy, but it can be extended to other countries that are to join the Schengen states shortly.
In fact the number of days of stay will determine the cost, which has minimum of six days and maximum of 365 days. The minimum premium of N3, 900 are for a period of six days. The benefit is 30,000 Euro (maximum). We issue Policy certificate to travellers or clients to reflect the terms and conditions of the policy to be presented to the embassies.
Hospitality Plus Insurance cover provides indemnity to the hotel or hospitality proprietor in respect of loss or damage to guest property and other visitors while in the premises. loss or damage to guest personal effects limit of N50,000. Financial aid for proprietor and employee as result of death and injury sustained from accident whether at work or away from work. The policy covers proprietor's vehicles while on the road and within the premises. The premises' risk in respect of fire, burglary and other third party liabilities.
This Hospitality Plus Insurance has the exemption of accessories of motor vehicles, livestock and property of servants. It exempts also deeds like bonds, bills of exchange, promissory notes, cheques, and security of money, stamps, documents of any kind, manuscript, medals and coins unless specially insured by a separate item.
Loss due to war or kindred risks, or due to nuclear risk, revolution insurrection or military or usurped power; loss or damage due to confiscation, commandeering, requisition or destruction by any public authority; loss due to errors or omission of employees; death or illness or injury through the consumption of food or beverages like food poisoning risk; loss or damage to property which is leased, let, rented, hired or lent to the insured or which is in any other way the subject of a bailment to the insured; loss or damage to any underground pipes cables mains or sewers or any claims arising in consequence of such loss or damage.
The exemption include any liability arising directly through hoist, cranes, lift, elevators stem boilers or toil berthing. Damage to any building structure or land caused by vibration or by any removal or weakening of support of such land property or building; defective design or defect in any goods or the containers of any such goods, which have been supplied to the insured. Any contract of indemnity, which imposes upon the insured liability, which the insured would not otherwise have attached in the absence of such agreement. Any loss or expense in consequence of loss of property of the insured/proprietor.
We plan to launch these products very soon.
Ethical standards
I want all insurance practitioners to embrace professionalism, to practise insurance according to the standards of our profession. We should also charge appropriate pricing for our products and avoid rate cutting.
National Insurance Commission (NAICOM) has been doing its best to the development of the industry. I give kudos especially to the leadership for the compulsory insurance products just being added to the market and all its efforts to ensure that insurance adds more to the Group Domestic Product (GDP) of the economy.