200 Vigilantes Set To Face Boko Haram On Reprisal Attacks In Madagali LGA
......As Five Were Killed In A Fresh Attacks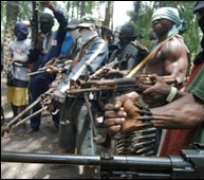 A community in Madagali LGA has recruited up to 200 hundreds able Youths to face the dreaded Boko Haram group who launches a fresh waves of attack on kolbachwa village with scores believed to have been killed which the lawmaker representing Madagali in the state assembly said has resulted in the deaths of five persons.
The attacks have forced the community to trained and equipped the recruited vigilantes in the area to repel future attacks, the lawmaker representing Madagali, Hon. Emmanuel Tsamdu has said.
According to Hon. Emmanuel Tsamdu, representing Madagali constituency, under the platform of the Peoples Democratic Party,who broke the news of the attacks in his constituency to newsmen, the attacks in Kolbabachwa which claimed 5 persons is coming on the heels of recurring attacks which have claimed several lives.
Hon. Emmanuel who was calling for more security presence in the area following the attack also observed that the area has not know Peace since the onset of the rains as many of the Boko Haram insurgents have been taking shelter in the mountains.
He said it was from these hideouts in the surrounding mountains which dots its landscape that the insurgents also come out from to unleash attacks on the dwellers who are mostly farmers.
He maintained that many such attacks have occurred in Midigu, Lanssa, Immulsa, Kubula, Sabon Gari and Wagachakawa, within the last five days with scores feared killed by the insurgents.
Self- help Worried by the spate of the attacks the lawmaker said, some stakeholders in the area including himself have recruited over two hundred local hunters as vigilante to repel further attacks. The aim of vigillantes, he said, since they were more conversant with the terrain are to "go after the dreaded members of the sect who are still dwelling in the mountains and also repel any future attacks in the area".
Tsamdu said the last attacks in Kolbachwa had left community with no choice than to resort to self eventhough he noted that the military command in the state had been briefed of recent development in Madagali.
The lawmaker therefore called on government to deploy more military personnel to Madagali area of the state as the current size of the military personnel stationed in the area may not be able to contain the onslaught of the sect because of terrain and gorrilla nature of the attacks, he said.