What Newspaper Didn't Write About Fayose Once Being A Danfo Driver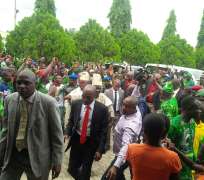 Thursday, 30th day of July was significant in the lives of members of The Road Transport Employers' Association of Nigeria. It was a day set aside for the inauguration of the association's inauguration of its new executives, members from across Nigeria, including the National Chairman and other Exco members from Abuja converged on Adetiloye hall of the trade fair complex, Ado Ekiti.
Members were all in a beautifully designed customised Ankara. I wasn't at the venue long before the arrival of the Executive Governor of Ekiti, Mr. Peter Ayodele Fayose, I arrived only few seconds before he did, but what I saw on his arrival was electrifying, that the governor was given a rousing welcome is an understatement.
Ordinarily, I see no reason to write about the accolades showered on the governor on this occasion, it's a scene I witness on daily basis, it's a thing I hear everyday. Fayose as far as am concerned is undoubtedly the most popular man in Ekiti today. I will also not blame our drivers for welcoming him in that manner, this must be the first time a sitting governor is attending such event.
The governor spoke with them in his address, of course Fayose doesn't read prepared speeches, that's rare of him, he spoke with them offhand, he addressed them like a father would address his son! I have no problem with the body of Punch's reportage of the event, just that the headline was misleading, very misleading. Those who already had a biased mind towards the governor jumped for joy when they read the governor say he was once a Danfo driver, they were like "Yes, we said so!"
It is for this reason I will be dishing out word for word what the governor said at the event, his motive was to charge and inspire all youths, not just the drivers who happen to be his immediate audience at thie event. They were indeed inspired, it is a story that will inspire anyone with an open mind. Am not coming out this morning with all he said at the event, let's just have that side that has to do with him being a one time Danfo driver. Let's Go! Oshoko Uncut ...Lakotan, mo fe ki opolopo o taraa mi keko(In all, I want a lot of people to learn from me), I want a lot of people to learn from my experience, particularly those people ti won ti roraa won pin ni Oo (those who has lost hope) ti o de ripe toripe o je driver Oo le make e mo(and you think you can make it no more because you are a driver), you are claiming that you are a driver, driver's work is driver's work. I was once a driver like you(Claps) and I want you to learn this lesson from me.
Please, I want young people to learn this lesson from me. I want young people to learn from this : Many young people today, they don't want to go through the ladder to become human beings at all...they are in a hurry, they want to either do drug business or join bad gangs...because you are a driver. I was a Danfo driver in Ibadan for almost 3 years (Claps and Hails).
Listen... Ejoor. Baba mi, awaa 27 lo bi(my dad had 27 children) , iyawo mefa lo de fe(he married 6 wives). Ko si bi Olowo ba ti lowo to, to ba ti fe iyawo pupo, to ba ti feyawo pupo(No matter how rich a man is, one he has many wives), to ba tii ngberu yen lo oke, Aa maa fiwo, Aa maa fiwo (as he tries to live up to his responsibilities, things will be shaky), Eru a di Eru awon Obirin(and the responsibilities falls on the women).
Opolopo Obirin lowa nibiyi to jepe awon lo nto omo bayi(we have a lot of women in this gathering who are now the one taking responsibility for the family's upkeep), omo ti Obirin ba de to, to lo ya garawa, o fi Iya eemeji je Iya e(it will amount to double jeopardy if you were raised by a woman and you become a nobody in life). Ti Baba e a gba loju pe(your father slapped her), to gba ori e pe (hit her on the head), ta a gbe Obirin min wale pe(the father comes home with another woman), to o ba sope(if you say) after your mother had laboured for you, you want to be a vagabond then that is so sad!
My father had 6 wives, my mother is in the 3rd position. When I finished my OND, life was no longer the same. I saw an advert in Nigeria Tribune, they want to sell some of their used vehicles, so I went to my mother, she sold her DATSUN 120Y, won npe ni Shalaake (the car is called Shalaake), awon Agbalagba lo le mo motor ti won npe ni Shalaake(the young ones might not know the car called Shalaake). My mother sold that vehicle, gave me half of the money.
We went to buy Danfo from Tribune Newspaper and I had to go for HND, my brother was in the polytechnic, others have to go to school, I happen to be the first son. So I repaired this Danfo, we live at Orita
Challenge and I go to school in Poly, Ibadan Poly. So I have to enter Danfo, carry my Danfo at 5:30(am), I will call Ring Road/Dugbe, Ring Road/Dugbe, Ring Road/Dugbe, Ring Road/Dugbe (Claps and Hails). When I get to Dugbe (in Ibadan), I will call Mokola/Sango/UI/Ojoo..., Mokola/Sango/UI/Ojoo... When I get to Ojoo, I have to go back to Poly via Apete, I will call Sango/UI, Sango/UI nikan ni Oo because am no longer going to Dugbe, I have to from Sango go to Poly. So when I get to Sango I will call Poly/Waec/Apete, Poly /Waec/Apete...
I will go to take my lectures in the morning. I used that money to train myself and train my siblings and apart from that, I travelled abroad after my HND at service year, it was from that small money that
I was able to buy my ticket, I got to London before I called my Dad. All am just trying to let you know is that being a driver, you can make it in life! (Claps). You can make it in life! There is dignity in Labour, awon to nfoju Egan womi lana, won ndobale niwaju mi leni(those who looked at me with reproach yesterday are now prostrating before me today), Iya mi Ojosi yen naa, inu e amaa dun pe Iyaa governor lounaa bayi Oo(my mum sure will be happy that she's today a governor's mum).
Am just appealing to all young men who are drivers today... You can be all you want to be!... You can be what you want to be if you are conscious of tomorrow.
Olorun a ran yin lowo Oo, I love you very Dearly, I congratulate you all, I congratulate myself, I congratulate His Excellency(Rev. Barr. Agbede), The Road Transport Chairman in Ekiti State, long long long may you reign peacefully, Congratulations...
Ese Oo (Thanks so much), Oluwa a pelu yin Oo(may God be with you)(Claps and Hails).
IMG-20150731-WA0003
IMG-20150731-WA0004
IMG-20150731-WA0005
IMG-20150731-WA0006
IMG-20150731-WA0007