Kerzner International Appoints Two Senior Executives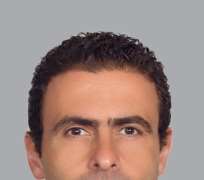 DUBAI, UNITED ARAB EMIRATES – XX July 2015 – Kerzner International Holdings Limited (the "Company") has made two new executive appointments: Ali Tabbal, who has served as Chief Financial Officer for Kerzner International for the past three years, has been named Chief Operating Officer and Saif Al Yaarubi has been appointed as Chief Financial Officer, both effective 1 August 2015 .
Reporting directly to Alan Leibman, Kerzner International's Chief Executive Officer, Ali Tabbal will oversee the Company's global operations ensuring alignment of resources, systems and talent to support Atlantis, One&Only and Mazagan resorts, as well as all projects in development. In this new role, Ali will provide strategic leadership across all key operational areas of the business, including Human Resources, Resort Operations, IT and Procurement. Saif Al Yaarubi will assume responsibilities as Chief Financial Officer for the Company, also reporting to Alan Leibman.
"As we continue to grow, we are more focused than ever on developing and inspiring our people to innovate and create amazing and memorable experiences for our guests. I am pleased to have a strong senior executive team ready to take the Company to the next level and am thrilled to have Ali lead the operational side of the business at this exciting time of growth for the Company and to have Saif step into the CFO role," commented Alan Leibman. "Ali has been instrumental in his role as Chief Financial Officer delivering outstanding financial performance, as well as steering all divisions of our Company to align with our overall strategy. He is the perfect fit for the new role of Chief Operating Officer. I am also very pleased to have Saif Al Yaarubi join us as CFO. His vast experience over the past 25 years in banking and finance plus his commitment to corporate governance will ensure we exceed the expectations of our owners and stakeholders as we move forward with development projects currently in excess of $4.5 billion."
As Chief Financial Officer, Ali was a major contributor to the Company's growth and success; he successfully executed the Company's financial strategy and optimized its short and long-term capital structure. He also led the team that completed refinancing at both the resort and corporate level.
Mr. Tabbal joined Kerzner in 2012 from Kingdom Holding Company where he was Deputy Chief Financial Officer since 2010. In this role, Ali was responsible for development of the company's growth strategy and consolidation of its investments and subsidiaries. During his time with Kingdom Holding Company, Ali managed and coordinated the privatization of a publicly listed subsidiary and was also instrumental in the acquisition financing of two major IPO transactions in the US and UK markets.
Prior to joining Kingdom Holding Company, Ali worked for Dubai Holding for over ten years. During his last five years there, Ali held the position of Group Chief Financial Officer. In this role, Ali had oversight of all financial operations, from Accounting and Financial Reporting through to Treasury Management and Investor Relations. In addition, Ali was responsible for several major transactions, including the successful financing of over $6 billion.
Ali began his finance career in the United States, working as a financial consultant for Control Associates in New Jersey, before moving to Chase Manhattan Bank as analyst in New York. In late 1998, Ali relocated to Dubai with Arthur Andersen as a Senior Financial consultant on their Global Corporate Finance Team prior to joining Dubai Holding. Ali holds a Bachelor of Science Degree in Economics and Finance from Fairleigh Dickinson University, as well as a Masters of Arts in Financial Economics.
Kerzner International also announced the appointment of Mr. Saif Al Yaarubi as Chief Financial Officer for the Company. Mr. Al Yaarubi has over 25 years of experience, most recently as Chief Operating Officer, Alizz Islamic Bank. As a member of the Bank's Executive Management Team, he contributed to the launch, development and delivery of the Bank's business strategy, in addition to overseeing all back-office related operations. Prior to Alizz, Al Yaarubi was Finance Director at Investment Corporation of Dubai (ICD), the investment arm of the Government of Dubai.
He began his career in 1991 in the Finance Department of the Ministry of Defence—Oman and then moved to Dubai in 2000 to join Ernst and Young. He holds accreditation as a Fellow Certified Charted Accountant (FCCA) from the Association of Certified Charted Accountants (ACCA) in the United Kingdom and also sits on the boards of Deyaar PJSC and National Bonds PJSC, as well as being Chairman of the Audit Committees of both entities. Previous roles also included the Chairman of the Audit Committee and Member of the Steering Committee of Aswaaq LLC, as well as previously a member of the Audit Committee for Dubai Aero Space.