Groups El' Rufai On NNPC Privatisation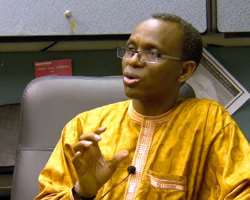 Isoko Vanguard for change has reacted to the suggestion of Kaduna state governor, Mallam El' Rufai that the Nigerian National Petroleum Corporation (NNPC) be privatised , accusing the governor of plotting to sell the corporation to his cronies.
The group described NNPC as a company belonging to the nation but acquired with the asset from the Niger Delta region.
Spokesman of the group Comrade Ekomeko Gilead Omaha made the accusation and urged President Muhammadu Buhari to discountenance such suggestions by El' Rufai and his likes saying a probe of the rot in the corporation was what is needed to revive the NNPC instead of suggestions for outright sale. ''We know those who had been at the helm of affairs in the corporation, the major contractors who had continued to collect multi-billions of Naira contract to revamp the corporation.
We know those who while serving as president , also were the petroleum Ministers. We know about the benefactors of the buggy subsidy frauds that over the undoing's of the oil sectors. They should be probed instead of selling the corporation'' he stated.
Mr Omoha said those who stole the corporation blind are the same clique who have the money to bid for the purchase of the corporation. Buhari must not fall for their antics , stressing that the Kaduna state governor's call for outright privatisation appear to be the first move by the cartel.
The group urged Buhari to expedite actions towards paying the contractors who were awarded contract for suivilliance and protection of oil pipelines, remarking that the contract was a legitimate one and that federal government is under obligation to pay for services rendered to it as stipulated in the contract terms.