NHS 'ORGAN DONOR ERROR' REVIEW TO TAKE PLACE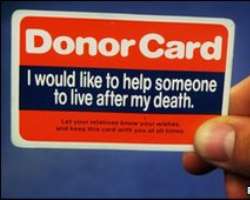 There will be an independent review after the NHS transplant authority confirmed 21 cases in which the wrong organs may have been taken from donors.
Up to 800,000 people on the UK donor register may have had their wishes about which organs they wished to donate recorded incorrectly.
Health Secretary Andy Burnham said he regretted the error but it should not stop people from donating.
The British Medical Association warned public confidence could be damaged.
NHS Blood and Transplant apologised and said only donors in Scotland, England and Wales who had registered using their driving licence application form were potentially affected.
Mr Burnham said a new system had been put into place to prevent the error from happening again.
'Technical error'
While many donors give consent for all their organs to be used for transplant after their death, some withhold consent for certain organs – such as their eyes.
However the details of many donors' preferences were wrongly recorded in 1999.
The blunder came to light in 2009 when NHS Blood and Transplant wrote to donors, reiterating what they had agreed to donate.
But many wrote back saying the information was incorrect.
Mr Burnham told the BBC a review, led by Professor Sir Gordon Duff of Sheffield University, would be commissioned into how the data was wrongly recorded.
He said: "We do need to get to the bottom of it. It would appear to relate to a technical error going back to 1999 and this was how data was transferred between the DVLA and the blood and transplant service. That has now been corrected," he said.
Confidence
In a statement, NHS Blood and Transplant said: "We assure everyone currently on the organ donor register that the affected records will not be used in discussions with their family about organ donation.
"They will only be used once they have been corrected in accordance with the donors' wishes."
It has already corrected 400,000 flawed records and said steps would be taken to contact all those who were possibly affected to confirm the details held about them. Anyone who was not contacted could be confident their records were accurate, it said.
"There are a small number of cases, 21 over the past six years, where the person has died and their preferences may not have been correctly recorded," the statement said.
"In each case the family gave permission for the donation to take place, but it may not have been in line with the individual's preferences.
"We sincerely apologise for any distress this may have caused."
No-one had been registered as a donor against their wishes, it added.
British Medical Association chairman Dr Hamish Meldrum said: "You want people to come forward and donate their organs in good faith so that people who have serious conditions can have their lives saved.
"It does erode the public confidence in that and that's very concerning."
He said the review was needed in order to prevent patients' lives from being put at risk in the long-term.
'Shocking'
Joyce Robins of pressure group Patient Concern said she was angry such "sensitive data" had been so "carelessly handled" and she feared it would dissuade people from joining the register and result in people taking their names off it.
She said the health authority should contact everyone on the register and ask if all information was correct.
It is against the law to take organs from the dead without their prior consent, or that of their family after death.
Shadow health secretary Andrew Lansley said consent should always be given and if that had not happened, a full investigation had to be carried out.
He stressed though that it was important for people to continue donating.
Liberal Democrat health spokesman Norman Lamb described the data error as "a shocking revelation" and called for a "full inquiry".
He said: "People have to have absolute confidence that their wishes will be respected."