Her Excellency, Senator Donzella James Of Georgia And Four Nigeria Governors Ready For NFFG And NEGA Awards 2015 In Germany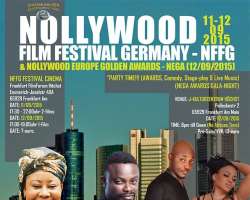 ​ Ehizoya Golden Entertainment e.V, has named Hollywood actress and producer, Queen Blessing Itua as the host of the 2015 edition of Nollywood Europe Golden Awards. The Esan-Edo State born artiste, who is also an author and motivational speakers, has vowed to make the event spectacular.
The Nollywood Europe Golden Awards NEGA 2015 is a platform designed to honour Nollywood stake-holders, Nollywood stars, comedians, musicians (both in Africa and in the Diaspora) has been expanded to recognize the artistic bias of outstanding politicians and business men whose actions have directly or indirectly impacted upon the industry, thereby shaping what it has grown to become today.
NEGA Awards, is the climax (awards and gala-night) marking the closing ceremony of Nollywood Film Festival Germany – NFFG, a viable platform designed for Nollywood film makers to showcase their movies to Europeans and Nollywood fans in the Diaspora which is in its second edition. The event is scheduled to hold at the prestigious Filmforum Höchst VHS Cinema, Emmerich-Joselstr, Frankfurt am Main, Germany, from September 11 through September 12, 2015 starting from 17:00uhr on.
Top three films ready for screening at this year NFFG are; "Stigma" by Dangogo, "The Last Slave" by Henry Ozuluonye and Igbo language film but subtitled in English "CHETANNA" by Ikechukwu Onyeka.
According to the event Director, Isaac Izoya – Cultural Ambassador, he said "for the very first time since we started this European exploit with African culture and road-shows courtesy of Nollywood, comedy and hip hop stars, we're now getting a green light from both German/Nigeria governments including cooperate bodies."
In his words, for the very first time, some political heavy weights have accepted to attend this year's event in person. Some of the eminent personalities that have confirmed their attendance are: His Excellency, ex-vice President, Alhaji Atiku Abubakar, Gov Ibramin Dankwambo of Gombe State, Gov Adams Aliyu Oshiomhole of Edo State, Gov Rochas Okorocha of Imo State, His Excellency, ex-Gov Alhaji Aliyu Magatakarda Wamakko, the immediate past governor of Sokoto State, Sir Mike Mbama Okiro, IGP rtd, and Mr. Steve Olu a top security expert.
Her Excellency, Senator Donzella James, Democratic senator representing Metropolitan Atlanta's 35th District of Georgia, is also invited as Special Guest of Honour in recognition of what she does for the Africa people in the State that led to her being honored by the Nigerian Community in the USA, including the 2014 Friend Of Nigeria award, by the Nigerian Women Association of Georgia, NWAG, and having Queen Blessing O. Itua as Her International Liaison - Adviser, to name a few, are testaments of her love and support for the Nigerian people in particular and Africans in general.
We formally invite these calibres to attend this year's NEGA awards ceremony in Germany, where they will be honoured with the NEGA highest Awards, "The Pillar of Nollywood" and "Nollywood Grand Innovator" Awards respectively due to their respective contributions towards Nollywood directly and indirectly. Others expected to also receive NEGA Awards are; Nollywood stars, Ime Bishop Okon, Ngozi Ezeonu, Queen Blessing O. Itua, Gandoki, a comedian as well as two journalists- Ngozi Emedolibe (National Mirror) and Victor Akande (Nation). Also on the list of expected guests is Nigeria's most successful coach in the German Bundesliga - TSG 1899 Hoffenheim junior team, Mr. Benjamin James, top Nollywood stars, Cossy Orjiakor, Cynthia Agholor as well as Kunle Aborisade the Chairman Board of Trustees NFFG/NEGA Awards Nigeria office / the MD of Boris Communication, NTA Channel 10 Exclusive Live, Fred Iwenjora – editor in chief of ECD newspaper, Shaibu Husseini of Moviedom, Guardian newspaper, Isabella Akinseye of Nolly Silver Screen and Charles Nwagbara – editor in chief of High Society magazine."
Nollywood Europe Golden Awards (NEGA) is organized by a consortium of renowned Europe based African entertainment promotion outfit, Ehizoya Golden Entertainment e.V in alliance with Consulate General of the Federal Republic of Nigeria in Frankfurt Am Main, Germany, Africa community Germany, Ethiopian Airlines, AfricanTide Union e.V, RIA – money Transfer and change, Stadt Frankfurt Kulturamt (Ministry of Art/Culture - Frankfurt), Hessen State Filmforum Höchst VHS-Frankfurt Am Main, The Office for Multicultural Affairs (Amt für multikulturelle Angelegenheiten – AmkA), Millenium Hospitality International, Hotel Savigny and the Nigeria community e.V, Frankfurt, Germany.
"EHIZOYA GOLDEN ENTERTAINMENT & PRODUCTIONS"
Contact Us For Your Events
Management, Film Productions In Europe & Africa,
Latest Nollywood News & Movies and
" laff & groove in Europe" comedy DVD(s) and
you won´t be disappointed.
Nollywood Film Festival Germany -NFFG
& Nollywood E-Golden Awards NEGA 2014
Date; 11th - 14th September 2014.
www.Ehizoyafilms.com
"THE SHOW MUST GO ON!"