Why Lagosians Should Keep Faith In Ambode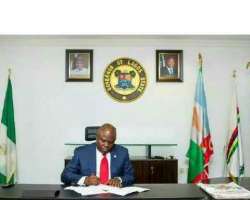 Attempts, measures and steps must be taken to separate politics from performance and the time is now as the governor of Lagos State, Mr.Akinwunmi Ambode has hit the ground on performance. Now, there is need for Lagosians to keep faith on the man whose yes is yes because all his campaign promises will be fulfilled. Governor Ambode who is a selfless and pure hearted man has so far began his good performance and without benefit of doubt, this new governor of the state has shown mastery and competence in the few days he has spent at the helm of affairs such that Lagosians cannot have any cause to regret his election.
Ambode, though yet to appoint his commissioners, has made moves to consolidate on the achievements of his predecessor and has already created an additional path to success by cutting down on the cost of governance through the merging of some ministries, departments and agencies as well as establishing the Ministry of Wealth Creation and Employment aimed at solving the unemployment quandary in the state. This specifically addresses the promise he made during his campaign on employment trust fund, labour exchange and entrepreneurship.
Ambode's style of governance is significantly different from his predecessor's because unlike Babatunde Raji Fashola, Ambode allows heads of agencies to take initiatives and react to issues as professionals. He is also engaging the civil service more than what we saw in the administration of the former governor.He has also stated that enforcement of various laws of the state during his time would have human face. In public functions, he has proven himself to be approachable, indiscriminating andhumble while identifying with people just as people identify with him.
Mr. Ambode in line with his promiseto attract international business and ease the difficulty of transacting business in the state has set up the office of Overseas Affairs and Investment(Lagos Global). He has assured the business community and corporate Lagos that the ease of doing business in Lagos will be improved upon earnestly and with the creation of this department under the Governor's office, investors can now fly into Lagos, start their business, find their way; live, work and enjoy in Lagos.
As one of the few elites who see creativity as the most valuable asset in any public institution, Ambode encourages Progressive governments to reward contributors of good ideas thereby making it possible, wherever practicable, topractice a government by incentive and not government by enforcement.
He has also demonstrated his commitment to the development plan of the state anchored on social development and security, infrastructural andeconomic development as well as sustainable environment. In this regards, his plan for the ancient town of Epe and other undeveloped areas of Lagos will soon witness this development in the course of his administration. In addition,he has awarded the contract for construction of Ikotun road which has been in very bad condition for more than a decade now and serious work is currently on-going on the road.Furthermore, following his inspection of certain traffic congested areas in Lagos like Berger bus stop, Dopemu junction, Abule-Egbe, Mile 2, Oworonshoki, Mile 12, Alimosho and Apapa bus stops, he has awarded the construction of pedestrian bridges at the designated points as well as rail way lines from Orile to Lagos Island (CMS) by Julius Berger PLC which would be completed in twelve months.
The Lagos State Governor, Mr. Akinwunmi Ambode recently assured Lagosians of his administration's determination to complete the Mile 2-Badagry Road Expansion project in quick time. Ambode who gave the assurance when he inspected the Mile 2-Badagry road construction works, which was being expanded to a 10-lane way, said the contractor working on the project would be mobilized to ensure its completion. Ambode has equally commenced the building of a 1000-truck capacity park in Orile-Iganmu in order to resolve the perennial traffic gridlock in the commercial area of the city adding that the daily loading of the tank trucks on the Apapa bridge by the tank farm owners has to be stopped to allow free flowof traffic on the bridge.
Also, with the creation of the Office of Civic Engagement under the Deputy Governor's Office to strengthen and enhance his promise on government of inclusion, everyone now has a voice in his administration.
Although Ambode is yet to release his list of commissioners, there are indications that he is opting for a smaller cabinet compared to that of his predecessor since he has scrapped the Ministry of Rural Development, Monitoring Office, Political and Legislative Powers Bureau, Office of the Special Adviser on Taxation and Revenue as well as Debt Management Office.He has also merged the Office of Works and Office of Infrastructure; Office of Drainage Services and Office of Environmental Service for effective execution of government services.
In the same vein, he has converted the Ministry of Home Affairsto Ministry of Tourism, Arts and Culturewhich is saddled with responsibilities beyond home affairs alone. He has equally expanded the ministry of Special Duties to accommodate Inter-governmental relations, renaming it ministry of Special Duties and Inter-governmental relations while that of the Office of Transformation has been expanded and renamed the Office of Transformation, Creativity and Innovation.In addition, the responsibilities of ministry of Local Government and Chieftaincy Affairs have been expanded to include Community Affairs, renaming it Ministry of Local Government and Community Affairs.
Ambode, the man whose yes is yes has fulfilled his promise of compensating the victims of the petroleum tanker explosion at Iyanan-Ipaja and Idimu area of Lagos that destroyed properties worth millions of naira were gutted when tankers laden with petroleum exploded. He donated N100,000 each to them to prove his deep concern for the welfare of the citizens.This token was given as palliative measures to cushion the losses incurred by the victims as well as to enable them return to their normal lives prior to the outcome of theinvestigations into the cause of explosion.As a humanitarian, he has rehabilitated Mrs Ruth Uche, the mother of three sets of twins whose husband Mr Benjamin Uche absconded from their home after the third set of twins was delivered and assisted in raising the children.
To show that he is not tribalistic, Ambode has appointed Engineer Peter Nkedishuka Okonji, an Igbo man, as the new General Manager of the State Electricity Board in place of Mrs. Damilola Ogunbiyi, who was appointed the general manager by the immediate past governor, Babatunde Fashola. This has shown that as a patriotic Nigerian, he is willing to work with any person irrespective of tribal or religious affiliations
As one of his noble achievements within his few days of assumption of office, Ambode has declared the second Lekki-Epe Expressway toll-free stating that his major concern was ensuring the completion of the road and not in the toll fees levied upon the road users.
As a governor who listens to the cry of the masses, Ambode has placed sanctions on LASTMA, VIO, KAI and other uniformed operatives in Lagos state for anyunlawful arrest, harassment,detention and impounding of vehicles of unsuspecting citizens for their selfish gains as complained by the majority of Lagosians. This is in fulfillment of one of his campaign promises to sanitize the above agencies.
To exploit Tourism potentials in Lagos state, Ambode has launched the tree-planting campaign as well as the Deep Sea Port project in Badagry covering about 1000 hectares of land area which is believed to become the biggest in the African continent when completed. This is to harness the tourism potentials and side attractions notable within the axis which in turn will provide new settlements, boost the economy and improve the standard of living of the general citizens of Lagos state.
In conclusion, if these achievements can be recorded within his few days in office, then, there is no doubt that with the eventual emergence of his commissioners and directors of other agencies, Ambode is sure to bring all his campaign promises to reality and make a name in the history of Lagos state. It is therefore right to say that better is not enough, rather, the best is yet to come in Ambode's administration.
Nonso Inekwere
Festac Town, Lagos

Disclaimer:

"The views/contents expressed in this article are the sole responsibility of the author(s) and do not necessarily reflect those of The Nigerian Voice. The Nigerian Voice will not be responsible or liable for any inaccurate or incorrect statements contained in this article."
Articles by Nonso Inekwere