Demystifying the Kidnap and Murder of Mr. Emmanuel Chukwuemeka Udemba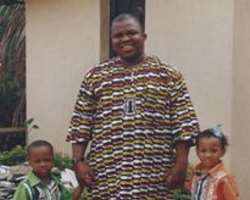 Late Mr. Emmanuel C. Udemba (center) with his twin youngest children.
With painful interest, I have read the captivating piece and column written by Mr. Justin C. O. Okongwu and his group, appealing for a federally-ordered investigation into the kidnap and murder of Mr. Emmanuel Chukwuemeka Udemba. I have also read their subsequent and most recent post that reveals that Mr. Udemba's corpse has been "found" in Otuocha, Anambra state. My heart and prayers go out to his family over this irreparable loss. May I remark that I have recently made a few comments online to help capture the attention of Federal Authorities so they could order a thorough investigation into the kidnap and now death of Mr. Emmanuel Chukwuemeka Udemba. We have severally read that Mr. Udemba was abducted at Nkwelle-Ezunaka, a dangerous place, in Anambra state since March 21, 2012 while he was driving to his plywood business base at Ogbunike, also in Anambra state.
The newly-emerging report from the Anambra state police, as at July 10, 2015, shows that the corpse of Mr. Udemba has recently been spotted in one of the local morgue in Anambra state; precisely at Otuocha with the family of Udemba, his friends and well-wishers finding this type of claim from the police unacceptable and vague, to be precise. Why now? Why was not this done in an open, transparent and timely way? Has the serious focus of the police always been to look only for Mr. Udemba's corpse and not the masterminds of his kidnap and disappearance for a meaningful closure? A reliable source has revealed that the present Anambra state police commissioner, Mr. Hassan H. Karma, said that according to "the report he received" that Mr. Udemba's corpse was first "found in a bush at Otuocha" on March 24, 2012; that is, three days after his kidnap. When Mr. Udemba was kidnapped, a huge ransom of N3.5 million was reported paid by his family to save his life and secure his release just as presumed kidnappers for ransom would always promise and often granted. But that never came true. Mr. Udemba was never released. They took both the huge amount of money and the man. It is very tragic that Mr. Udemba was not only kidnapped but was also murdered. I am sure that his family members are having a very tough time now dealing with their loss.
Given the way this kidnap case has gained notoriety, Anambra state is now waiting, Nigeria is waiting and the world is also waiting for the presentation of true and honest findings on the investigation of Mr. Udemba's kidnap and murder. Will the whole truth be told? Will all the masterminds of this man's kidnap and murder be eventually exposed and known? Will the Inspector General of Police, Mr. Solomon Arase investigate this kidnap story with seriousness, honesty and transparency so as to get to the depth of what happened to Mr. Udemba? What circumstances led to his kidnap and subsequent murder? Who are all those responsible for it? These are all we are looking forwarding to knowing soon. When this investigation is over, then people will determine whether or not the Nigerian police will continue to be trusted by people or simply consider and suggest an alternative way forward to the present Federal Government of Nigeria.
Mr. Udemba, who was a plywood dealer and a good citizen of Nigeria, before his death, had been living well with all the members of his family. He was nice, fair and respectful to everyone he met. His wife and children have borne endless witness that he was a very kind, peaceful, caring husband and father, who was committed to the well-being of every member of his family as well as caring towards other people. He was, also, a very conscientious, seasoned and committed businessman. It is difficult to believe that a man of good character like him would die this way without anyone caring to investigate his kidnap and murder. Nigerian citizens need to see something in our law enforcement agents to help us rebuild our confidence and trust in them. This process could begin with the investigation of this man's kidnap and murder case. For some reasons, popular opinion has it that something underhanded that has been seriously going on in Mr. Udemba's "kidnap" and disappearance case and now his reported death. His family certainly wants genuine answers from the Nigeria's Federal Police Department. A trusted source revealed that Mr. Udemba's family now seems to be finding it extremely difficult to trust any law enforcement agents especially the police. Nevertheless, they want more information about what happened to their loved one, why it happened, all those behind it and finally they want true justice.
To think that the members of Udemba's family, his friends and well-wishers would easily swallow the recent message from the Anambra state police command regarding the "now sudden discovery" of Mr. Udemba's corpse after three unpleasant years of his kidnap and disappearance would be most unrealistic. Why would the police not organize a press conference over a kidnap case that has been so widely circulated so that professional and investigative journalists would get the chance to ask deeply probing questions? Moreover, professionalism in the art and science of policing would have demanded that a press conference be granted. I suspect that the police know fully well that the Nigeria media would put them under a magnifying lens and that scrutiny would be hypertensive. Based on this perception, the appropriate authorities; perhaps, recoiled from organizing a press conference. Instead the Anambra state police commissioner secretly leaked their "new-found" message to an unsuspecting family that has been suffering for over three years, and to other people of their chosen, thereby causing more pains to a long-suffering family of the kidnap and, now, "murder" victim. Sorry, it is now widely seen as a corner-coined-up tactic. That type of strategy appears unprofessional, unpatriotic and even cowardly. I personally feel sorry for the wife and children of Mr. Udemba, who have known deep frustrations and disappointments for over three years now.
Permit me to share with you some strong, helpful and more recent comments from the website whose URL and link appear below on the kidnap and disappearance of Mr. Emmanuel Chukwuemeka Udemba ( https://emmanueludemba.wordpress.com ):
Tony Obika says: July 9, 2015 at 8:19 pm
The government knows very well that in most cases of commercial kidnapping and related crimes that some law enforcement agents have been compromised and as such, cannot be trusted to do a transparent investigation. They are only interested in concealing evidence in favor of their pay masters, the criminals. They often use delay tactics and other tricks to kill such cases. This is why an independent investigation is inevitable. I'm happy the new President Buhari will bring this case to closure by apprehending all the culprits.
Rev. P. Chukwuma says: June 28, 2015 at 12:59 am
The kidnap of Mr, Emmanuel Chukwuemeka Udemba is an open wound that only truth and transparency can heal. I think that the wife and children of this missing man need only the help of the Federal Government of Nigeria under the watch of President Buhari to get to that very truth. Please President Buhari help this longtime suffering family to find their loved one and bring justice to the masterminds and kidnappers of this man.
Angus Ilonze says: June 28, 2015 at 12:28 am
Buhari's men should find out why the Anambra state government refused to investigate this kidnap case and why the SSS director stopped on the way in the investigation. People could be very mischievous. What are they hiding or whom are they covering up? I cannot believe that a family has been suffering this way in a state for over three years now! This man Mr. Okeiyi should be summoned to answer so many questions about this case.
Odogwu says: June 26, 2015 at 11:01 pm
Mr. Alex Okeiyi is the director of SSS in Anambra state. The Federal government should investigate him seriously on what he knows about this kidnap case and other cases in Anambra state. I believe that he knows more than others. Somebody has to tell the truth on Udemba's kidnap investigation. This man has been there for many years and I hope our people in Anambra state can keep trusting him.
INCOMMUNICADO says: June 25, 2015 at 7:07 pm
One thing shocking is that someone recently mentioned that they have killed every evidence that will lead to the masterminds, including the kidnappers themselves. I do not believe that because they could not have succeeded in killing every single evidence. That is not possible! How did that all happen? Police shoot outs? How did they know? So when they arrested a person related to Mr. Udemba's kidnap case they kill him? A serious investigation of those police officers handling this case is indeed needed. Only the Feds can easily solve this problem for there is really something cooking.
Ramatu says: June 26, 2015 at 10:28 pm
Yes, that's why PMB should help this family and set up an independent investigation to probe his kidnap case and similar cases. We need to know those who have been holding us, the South East captive, and especially Anambra state back by helping and abating kidnappers. The truth needs to be known no matter whose ox is gored.
Ofili says: June 24, 2015 at 1:43 am
Please, please, PMB, if you have the fear of and respect for God (Allah) and love your fellow human beings, help the family of Mr. Emmanuel Udemba. I know that you do. Just set up a six-man independent panel of investigators of honest, sincere and transparent men in Nigeria who would handle this kidnap case and similar cases in Nigeria from now onwards. The panel should interrogate the following police officers separately and privately: Mr. Ballah Nasarawa, Mr. D. Paul Yakadi, Mr. Emeka Chukwuemeka, Mr. James Nwafor and most importantly the SSS Director in Anambra state, Mr. Alex Okeiyi and the truth will come out immediately. Again, interrogation must be done privately and separately: I learnt that some of these law enforcement agents have been speaking with double mouths on this kidnap case for sometime now. Please do this and you will be surprised to see and learn what some dubious law enforcement agents are capable of doing in secret. It's a shame that some elements in the Nigerian police have been corrupt for decades now.
J. C. Emeka says: June 15, 2015 at 5:05 pm
Please, President Buhari, listen to the voice of these twins and their family. I know you're God sent to rectify the atrocities perpetrated in the past administration. Do everything possible to arrest the sponsors of this crime. If possible, employ the services of the FBI and CIA to achieve the objective. An organized crime of this nature can destroy Nigeria's democracy and economy if not nipped in the bud. If there's one thing investors want in any country, it's security of lives and property. Help this family to know the whereabouts of their husband and father, Emmanuel, and prevent them from further harm. All good wishes.
Okorie Hyacinth says: May 9, 2015 at 12:31 am
Nigerians would sympathize with this family if they ever come to know the level of trauma associated with kidnappings especially of close family members. No one feels other peoples' pains unless it happens to him or her. I mean, this very kidnap case should have been taken over by the federal government since the state has been dragging its feet or just non-challant. They should have intervened if we ever had a federal government in Nigeria known for helping the common people. Sorry, but we didn't have one! Of course, the police belongs to the federal government and they have also appealed to the feds long ago but what have they done? I hope that General Buhari would not overlook this painful ordeal or treat it just as an issue for a south-east state even when Anambra state is not helping this suffering family. Every Nigerian is a citizen of Nigeria.
Mr. Anatogu Eddie, Ozubulu says: April 1, 2015 at 11:24 pm
I am happy when I saw this website on Mr. Udemba's kidnap. Those who brought this to the open has done very well. Thank you. For me, there is nothing that could be done other than public appeal if the authorities who should help their citizens have failed. It is good to bring it out even more to the open because I learnt that the police in Anambra state at some point wanted to cover this up this kidnap incident and almost intimidated the victim's family, claiming that there was no physical evidence that someone was kidnapped, in the first place; even after they went to inspect the place where it happened. Thanks to the SSS who discovered the first evidence as well as arrested someone at the initial stage of their hunt.
T. Nichols, Texas says: March 24, 2015 at 4:24 am
My take is that there could have been people sabotaging the investigation of this kidnap case in that country but those guys ought to be known, if at all they are serious with security. Folks here need to help this family spread the message more to the rest of our world, I'm sure that it's worth doing. There is no question in my mind that some governments out there exploit their helpless citizens as well as victimize those they consider weak and vulnerable. It's possible that this is an example of such cases. It's time for good people in our world to stand up for such victims. I think that this family needs the intervention of the world community because this kidnap case seems to have gone out of their own control from the way it sounds. I hope that all peoples would see this type of job as saving peoples' lives. Please help in whatever way you can!
Ekweozor, Awka says: March 24, 2015 at 3:57 am
Thank you, Mr. Bob for thinking about us and for your comments. I agree that the man in charge of the SSS in Anambra state should be changed because he has been in our state for a long time now. I do not think that it is a good idea to keep somebody in that position for a long time in a state like our state. For me it is dangerous. They normally begin well but as time goes on, some of them become corrupt. I do not what he has done about this case because I am not familiar with this kidnap case. For the Police commissioner, I think that he is new and I think that he is still doing fairly well. But at this point, I would suggest that Mr. Ekpenyong should let SSS Director in Anambra state go. He should be replaced with another person and let's see if this problem will be solved soon because this family really needs someone who can help them out of this kidnap case. As someone previously mentioned, there is serious need for closure. I do not think that it is a time for people to keep playing games. I believe that we should feel for one another.
Bob, Atlanta says: March 24, 2015 at 3:00 am
I saw that there've been concerns that some "big wigs" are behind the kidnapping of Mr. Emmanuel. If that's the case, I bet you that's probably why those guys have been delaying and dodging profound investigations into this sort of kidnap case. But you see, that does not help anybody at all. There are chances that those officers may have been bought over because it doesn't appear that they've been forthcoming since this incident took place. But I'm just wondering why the Nigerian government can't fire the guy in charge of the police in that state and whoever is in charge of the SSS in the same state and put credible law enforcements officers who will get this problem solved. I tend to ask myself: if we can expose leaders here for inappropriate behaviors and infractions in office, why can't such governments expose real criminals and all the masterminds of this man's kidnap? What does it take to do just that and bring this stuff to an end? Just being curious.
Jimmy from California says: March 13, 2015 at 5:23 pm
I felt bad when I read the news. You could imagine the agony and plight of this family and those who love them. Please, this case should be taken seriously. I suggest that a petition be sent to the International Criminal Court. Sinister conspiracy is usually dangerous. It is normally a serious case and should not be taken lightly. When a good case lingers endlessly, it means the devil is at work. It's either a ploy to eliminate and destroy all available pieces of evidence in order to fabricate lies or to kill the case outright. Remember the devil is tricky. Moreover, there's the probability that the bad guys can do more harm to their victims and others when such a case is unduly delayed. This situation demands an urgent intervention by all the authorities concerned. They should get to the bottom of the case. Further delay is dangerous.
Emeka Akpulue says: March 6, 2015 at 3:57 pm
A Case of Conspiracy: The kidnap of Mr. Emmanuel Udemba is seen by many people as a case of sinister criminal conspiracy involving some vicious, rich people who have enough wealth to influence some law enforcement officers negatively. This is the reason why a good number of people have kept calling on the government to set up an independent investigation into the case. This requires a prompt action by both Governor Obianor and President Jonathan to fish out all those involved in the crime and to know the where-about of Emmanuel. This will also prevent the criminals from wreaking further havoc on their victims and other people. A prompt action is needed. A stitch in time saves nine. Justice delayed is justice denied.
What are we going to do about this issue especially when there are suspicious circumstances that have been consistently suggesting foul play?
I think that we need to have a federally-ordered investigation to get to the root of what happened to Mr. Udemba. As I recently suggested online, a three-man panel made up of this current Inspector General of Police, the Federal DG, DSS and a High Ranking Military Intelligence Office would hopefully bring this matter to a truthful end. There is no question in my mind about that. Also, it is advisable that interrogations of suspects and persons of interests be done at the DG, DSS office at Abuja and the whole truth will come out. When this is carefully and systematically done, then the previously "complex" nature of Mr. Udemba's kidnap and murder case will be finally demystified. Indeed, this is a big challenge to the new Inspector General of Police as Nigerians would like to know whether or not this is "business as usual" especially when this kidnap and murder case seems to have involved some local "big wigs." It is only and only after a clear, honest and transparent investigation of Mr. Udemba's kidnap and murder case will Nigerians be able to say and shout with certainty: Now, the difference is clear.
Freelance Contributor, Mr. Andrew U. Offor writes from Port Harcourt, Rivers State.
Disclaimer:

"The views/contents expressed in this article are the sole responsibility of the author(s) and do not necessarily reflect those of The Nigerian Voice. The Nigerian Voice will not be responsible or liable for any inaccurate or incorrect statements contained in this article."