USAfrica: Obama and Nigeria's Buhari in Boko Haram summit in Washington DC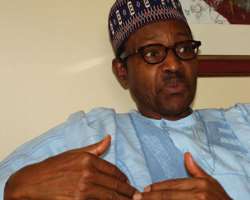 USAfrica, Houston: On Monday July 20, 2015, U.S President Barack Obama will host Nigeria's democratically-elected President, the retired army general Muhammadu Buhari, to discuss regional security interests and economic issues.
I'll call it the Boko Haram summit in Washington DC!
Why?
It is in the national and international security interests of the two countries to tackle Boko Haram. Especially troubling for Nigeria and the U.S is the operational convergence of the ISIS and Boko Haram.
First, Obama, son of a Kenyan immigrant-scholar, should underscore for Buhari the key point that the former soldier was voted into power at a historic juncture, amidst the dramatic interplay of both squandered and current opportunities for a national rebirth of Nigeria. Buhari must move to a higher purpose, away from the seductions and assumptions of extraordinary power and the trails of nepotism.
Second, it is remarkable that the Islamic group's response since Buhari announced at his swearing-in on May 29, 2015 he will crush the group has been Boko's killing of almost 600 persons, destruction of mosques and churches
Third, the defiant escalation by the ISIS-backed terrorists Boko Haram regarding who defines and holds final authority and power over the geo-political integrity of Nigeria cannot be waived away as the misguided acts of a "rag-tag army" of mad zealots. Evidently, if anyone dismisses the Boko Haram soldiers as simply mad, they miss a tactical reality: there's a method to the Boko "madness." .
Consequently, Buhari, who has faced the almost daily embarrassment and relative emasculating of his presidency by daily murderous bomb attacks by Boko Haram, will seek an increase of American technical support in order to fight the northeast Nigerian radical Islamists group Boko Haram..
Fourth, issue for the two men is the realistic assessment of the facts that since the price of a barrel of crude oil has dropped by almost 54%, Nigeria depends on crude oil/petroleum sale for nearly 71% of its national income, there will necessarily be, at least, a 48% reduction in funds going to the 36 States of Nigeria and its local government administrations. According to the Deutsche Bank, for Nigeria to balance its federal budget for the 2014-2015 period, it needs a revenue stream pegged at $120 per barrel.
Nigeria's 1.8 million barrels of oil per day (OPEC's 7th highest; same as Angola) will need to be increased to at least 2.1 million barrels per day to begin to meet the spiraling bars of expectations awaiting Buhari, the 72-years-old man who ruled the country as a dictator from December 1983 to August 1985. Before then, he ran the national oil behemoth, NNPC without any reported issue of corruption or self-enrichment.
Fifth item which will be raised by Obama, U.S VP Joe Biden and other American leaders is Corruption — especially the oil/gas/petroleum sector. Buhari will offer the assurances of his direct handling of things in that area; reflecting what one of President Buhari's associates told me "is part of his moves to cut down corruption." I think that will be a popular move but an avoidable personalization.
Again, I think that Buhari has to profit from the lessons of the mistakes of the previous leaders and presidents from the country. Especially, from one man who is similar to him in some ways. From 1999 to 2007, the presidency of the man, retired General Olusegun Obasanjo rolled like a juggernaut. He, too, kept the oil portfolio and achieved minimal results — with resources squandered in petty fights and punitive expeditions and private appropriations -- all wrapped in his torn and incredible garment of 'Nigeria's National Interest.'
I am hopeful that millions of dedicated Nigerians and Buhari are capable of demolishing the infrastructure and commanders of Nigeria's Corruption Inc. He has been, literarily, canonized almost as the second coming of a strict "miracle worker" by his supporters and a jaded country.
Interesting, too, that already the captains of corruption who wickedly reduced Nigerians to children of a lesser god are afraid of the emerging Buhari presidency.
No wonder that in the face of a dithering but gracious and younger President Goodluck Jonathan, Nigerians chose to return to the past with a tested, battle-hardened former dictator to fight corruption, deepen democracy, sort out basic electricity and optimize Nigeria's future before it drowns in its own hideous orchestra of mediocrity and mechanized ethno-religious bigotry.
On balance, I believe Buhari has the capacity to rise to the challenge of history to be recorded as a man who had a rare second chance and truly turned Nigeria away from its depiction, stereotype and realities as a republic of corruption.
•Dr. Chido Nwangwu, Founder & Publisher of USAfrica multimedia networks since 1992, first African-owned, U.S-based newspaper published on the internet USAfricaonline.com; served as adviser to Houston's ex Mayor on Africa business and recipient of several journalism and public policy awards, has been profiled by the CNN International for his pioneering works on multimedia/news/public policy projects for Africans and Americans. He's completing the 2016 book, titled 'Mandela & Achebe: Footprints of Greatness.' [email protected]
http://usafricaonline.com/2015/07/17/obama-and-nigerias-buhari-in-bokoharam-summit-in-washington-dc-by-chido-nwangwu/
Disclaimer:

"The views expressed on this site are those of the contributors or columnists, and do not necessarily reflect TheNigerianVoice's position. TheNigerianVoice will not be responsible or liable for any inaccurate or incorrect statements in the contributions or columns here."
Articles by Chido Nwangwu