Celebrating Bart Nnaji at 59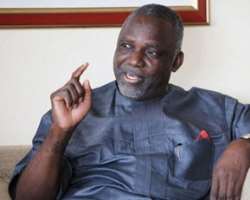 In his popular management book, Performance Management, Herman Aguinis who is an internationally recognized authority on human resource management draws global attention to one thing which world leaders in various fields, including sports, have in common: repeat practice. By repeat practice we mean a deliberate effort by a person—or even an organization—to stretch himself or herself to the limits constantly and habitually while in the process of achieving outstanding results. Nothing great, says the cliché, comes easy. Bill Gates, Wole Soyinka, Aliko Dangote, Barak Obama, Tiger Woods, etc, did not achieve global renown by electing to be like ordinary folks who typically work from 9 to 5. They rather ceaselessly challenge themselves. As Bart Nnaji, the erstwhile Minister of Power, turned 59 on Monday, July 13, 2015, it is trite to state that his personal achievements as one of the world's three leading university professors in his branch of engineering when he was only in his 30s and the revolution he has unleashed in Nigeria's awful electric power sector are as a result of what psychologists and management researchers call stretch, that is, setting a goal that would seem initially impossible to accomplish but achieved at the end of the day as a result of tremendous determination and extraordinary hard work.
As one of Nnaji's closest friends over the decades who naturally worked with him during his stint as Secretary of Science and Technology in 1993, Special Adviser to the President on Power and Chairman of the Presidential Task Force on Power from 2010 to 2011 as well as Minister of Power from 2011 to 2012, I have seen Nnaji's patriotism, self confidence, brilliance and absolute devotion to duty benefit the whole country. He made Jeffrey Immelt, chairman of General Electric, visit sub-Saharan Africa for the first time ever; and Immelt came in 2012 not as a tourist or mere supplier of turbines and other key engineering equipment but as a major investor in Nigeria. Today, GE's multi-million dollar production plant in Calabar, Cross River State, its first in Africa, is nearing completion. By the way, Professors Heinz Weirich, Mark Cannice and Harold Koontz describe GE in the 13th edition of Management: A Global And Enterpreneurial Perspective as the world's greatest company.
Nnaji also convinced world's leading engineering firms like Siemens of Germany, Hyundai Heavy Industries of South Korea and Electrobras of Brazil to start investing heavily in Nigeria's power sector as authentic stakeholders, instead of being content to work as mere contractors and equipment suppliers. Siemens, for instance, accepted to build its first workshop in Africa in Nigeria and to work in collaboration with the National Power Training Institute (NAPTIN) and Nigeria's northern universities in the development of solar energy where Germany is the world's leader. The unprecedented improvement in electric supply all over the country during Nnaji's tenure is too fresh in our people's mind to be repeated here. He assembled a team of what Eric Hoffer, the self-taught American man of letters, would call true believers, that is, devotees to the power sector reform and they did go out of their way to ensure its success. I, for one, broadcast and published in the media my telephone number, asking anyone with a peculiar power problem to contact me directly for a prompt resolution of the problem. It was a particularly difficult assignment. I used to receive as many as 150 complaints daily, and I did my best to solve each problem. It was an assignment which exposed me to the depths of the rot in the power sector. Whole communities and streets in towns and cities were deprived of electricity for months because of minor problems that could be addressed in a few minutes or because they refused to bribe electricity distribution company officials.
To repeat the obvious, Nnaji's era remains the golden era in Nigeria's electricity development. He was in office for only 14 months as the Minister of Power, yet it seems to most Nigerians that he was there for up to 10 years. This shows how impactful his tenure was, and still remains. Most Nigerians don't even remember his predecessors! There is no minster in our national history whose exit has created the kind of furore which accompanied Nnaji's principled resignation on August 28, 2012. For at least one month it was the dominant issue in the Nigerian media. On his return from an overseas trip, former Lagos State governor Bola Tinubu, who was to become the national leader of the All People's Congress (APC), told reporters at the airport in Lagos that with the exit of "the only performing minister in President Goodluck Jonathan's government, the ruling Peoples Democratic Party (PDP) is finished, and can never come back to office." How prescient or prophetic! The World Bank called the resignation a great setback for Nigeria's electricity development. The Economist of London on September 8, 2012, described it as the "extinguishing of a bright light in Nigeria".With the well deserved defeat of the PDP in the March 28 presidential vote and the repeated assurance by President Muhammadu Buhari that his government would feature a number of accomplished technocrats, it has widely been speculated in the media that Nnaji, who has since returned to his private business of building integrated power systems in Aba and elsewhere is a natural fit for the Ministry of Power. Consequently, vested interests in the power sector which have perennially kept the country in darkness have been fighting viciously to stop Buhari from returning him to government. All manner of ghost writers have been recruited to ensure that the status quo of corruption and lethargy prevails in the sector.
For example, the latest advertorial by the faceless characters claims that Nnaji has been "sleeping" in Tinubu's residence and that of former President Olusegun Obasanjo in a desperate attempt to become the new Minister of Power. They even claim that he is a member of Buhari's transition committee on infrastructure and that there is an ongoing spate of articles celebrating him in the media. All these claims are totally false. Nnaji has never met Tinubu and has not seen Obasanjo in years. Of course, he is not a member of any committee set up by Buhari. Nor has there been in the last year an article anywhere celebrating him or his accomplishments. In fact, he has in the last two years politely turned down award offers from organizations and institutions.
•Adinuba is head of Discovery Public Afffairs Consulting.