NIGERIA POLICE STRENGTHENS COLLABORATIONS WITH GERMANY.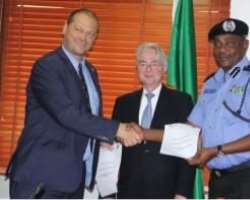 The Nigeria Police Force and the Republic of Germany Signs a Memorandum of Understanding for greater cooperation on security.
The wind of change in the Nigeria Police Force received greater impetus with the signing of the MOU between the Nigeria Police and the German Development Corporation (GIZ) will strengthen greater synergy on security.
IGP Solomon E. Arase signed on behalf of the Nigeria Police Force, while the country representative of GIZ, Dr. Thomas Kirsch signed on behalf of the German Corporation.
The German Ambassador to Nigeria His Excellency, Ambassador Michael Zenner, who led the delegation to Force Headquarters promised continuous corporation of the German Government with the Nigeria Police Force.
"The MoU amongst other things will advance the training and skill upgrade of Police personnel, support Police reforms, and border security".
IGP Solomon E. Arase in his response thanked the German team for supporting the Police, and remarked that the MoU is a fall out of President Muhammandu Buhari's visit to Germany few weeks ago,
He said that the agreement will further strengthens the Police and other security services capability to decapitate insurgency and other criminal vices in the country.
Arase used the occasion to assure the German Development Corporation of Nigeria Police readiness to work with them to achieve a robust synergy with the people and government of Germany.