EFCC is a glorified police station -Shekarau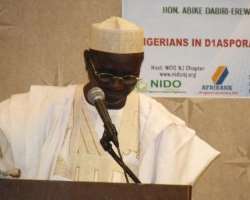 Governor of Kano state Ibrahim Shekarau
The Governor of Kano state Ibrahim Shekarau has taken a swipe at the Economic and
Financial Crimes Commission (EFCC) describing as a mere "glorified police station."
Shekarau stated this on Friday in New Jersey, USA while addressing Nigerians participating
in the world conference of the Nigerian in Diaspora Organization.
The governor argued that the commission is simply a tool in the hand of the president to
'witch hunt' and rubbish political opponents.
''EFCC is a glorified police station, honestly any responsible police officer will tell you this is
our job, there is nothing new.'' He stated.
Shekarua also challenged the federal government to adequately fund the police and allow
them to do their job noting that if enough funds are given to police, they will do a good job.
According to him ''the police is an institution, even if you compromise the IG, how many of
the police officers will you give money? Very few. But in a commission of ten, you can easily
buy them over. We are creating agencies, with all due respect, that have hidden agenda.''
The governor further canvasses for better funding of the police rather an agency that are ill
conceived and ill motivated.
''I was once watching Nuhu on the television, and was being asked what was the secret of
his commission, and he said number one secrete of my commission is that I have abundant
funds, I can send any team of investigators to any part of Nigeria, give them money, put
them in nice hotel.
''They have beautiful air-conditioned vehicle, good guest houses where they will lock you
in. Then go to police station, to write a statement you will have to buy a piece of paper. You
deny police funds to work, and you create an agency and give them funds and you are
saying that they are doing better than the police'' Shekarau observed.
|
Article source