No Cause For Alarm, 22 LG CTCs...Intact – Rivers PDP Insists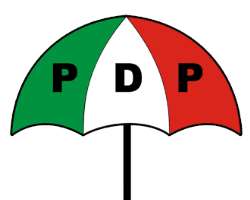 The Rivers State Chapter of the Peoples Democratic Party, PDP, says the Industrial Court sitting in Yenagoa, Bayelsa didn't order for the reinstatement of the sacked purported elected All Progressives Congress, APC, Council Chairmen and Councilors during its sitting yesterday Monday July 13, 2015.
The Chairman of the PDP in the State, Bro Felix Obuah, says the falsehood being peddled by Mr Dakuku Peterside and the All Progressives Congress that the Industrial Court sitting in Yenagoa, Bayelsa State ordered for the reinstatement of the sacked illegally elected APC Council Chairmen and Councilors is completely false, mischievous, misleading and intended to cause anarchy in the State.
The PDP Chairman said Mr Dakuku Peterside and the APC and their uninformed supporters have deliberately or ignorantly misunderstood and misinterpreted the issue of fact and real position of the Court on the matter, saying in line with the explanations given by the Honourable Attorney-General of Rivers State, E. N. Aguma, SAN, and as it were, the Industrial Court did not make any order reinstating the sacked illegally elected APC Chairmen and Councilors, whose purported elections were duly nullified by the Federal High Court sitting in Port Harcourt.
The Party explains that the APC and its illegally elected 'chairmen' can only seek redress at the Appellate Court, which is the Court of Appeal, and not an Industrial Court which has cordons team jurisdiction with the Federal High Court sitting in Port Harcourt.
The PDP is again concerned about the palpable tension such misinterpretation of a purported Industrial Court ruling has generated in the State, which the Party believes was avoidable and uncalled for, as the State was beginning to properly stabilize, having some of those contentious issues laid to rest by the Court and other institutions of law.
While urging the general public to disregard the claims by Mr Dakuku Peterside, the APC and their sketchy supporters regarding the Industrial Court ruling, the PDP Chairman, Bro Obuah also calls on the Chairmen and members of the 22 Local Government Caretaker Committees not to panic or be swayed, but to remain focused in the discharge of their legitimate responsibilities at the various Council areas in the State, insisting that the Industrial Court has not reinstated the so called APC purported elected "Chairmen".
The Party further reiterates its commitments in sustaining the peace and security it has achieved so far following the lofty efforts initiated by the State Governor, His Excellency Chief Nyesom Wike, stressing that the present government in the State is in a hurry to clear the mess, including non payment of salaries and allowances to civil servants and pensioners, abandoned road projects, external and internal debts amongst others left behind by the Rotimi Amaechi's administration.
The PDP also warns the opposition (the APC) to desist from making false statements, taking actions and making inflammatory comments that are capable of plunging the State into crisis.
Signed:
Jerry Needam
Special Adviser on Media to
State PDP Chairman, Bro Felix Obuah
Tuesday, July 14, 2015