Pastor W F Kumuyi Storms Adamawa State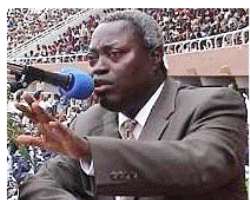 The founder and the presiding Pst of the Deeper Life Bible Ministry, Pst W F Kumuyi, yesterday received a rousing welcome into Yola, the capital of Adamawa State, by the Christian community and other likes,promising that God will perform great miracles where the impossibility will be made possible during the crusade three day crusade.
Kumuyi,who was received at Yola International Airport by the Deputy Governor of Adamawa State ,Hon.Martins Babale,christian clerics,also paid courtesy call on the Lamido of Adamawa,HRH,Dr Muhammadu Barkindo Aliyu Mustapha,optimistic that God Almighty will attend to the teething problems bedeviling the state.
The cleric thanked the Deputy Governor and the entire Christian community in Adamawa State for the rousing welcome accorded to him,praying God to replenish them abundantly during the crusade with blessings.
Fielding questions from newsmen,Kumuyi appreciated the efforts being made by the government and experts to tackling insurgency in the northeast of the country but the clerics will continue to support them in prayers to put an end it and restoration and recovery past losses.
When asked if he subscribed to holding dialogue with the Boko Haram, toward ending activities of the Boko Haram,Kumuyi said the experts in that regard should be allowed to use their expertise in that regard while clerics should support them in prayers.
He declared that he was invited for the three day crusade at the instance of the Christian community in the state and not as the founder and the General Superintendent of the Deeper Life Christian Bible Church,DLCBC,but for the entire Christendom.
He said he was concerned about the unity in the Christendom as stipulated in the Holy Scripture and peaceful coexistence with non Christians through the leading of God.
Because of this August visitor to Adamawa state,the security agencies have braze up to curtail any eventuality of insurgents attacks.