Delta Airlines Reaffirms Commitment To Safety, Comfort And Reliability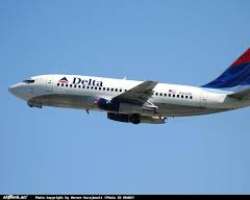 Delta has served the Nigerian market since 2007. We are the only airline to operate year-round nonstop service between Nigeria and the U.S. and we are committed to Lagos and our customers in this market. We operate a Boeing 767-300 (ER) on this route. It's a popular aircraft type with the majority of customers, particularly those flying in the Main Cabin on long-haul flights, because of its window/aisle configuration. More than 85% of the seats are either a window or an aisle seat.
The B767-300(ER) planes that we use on the Lagos route also rotate to serve other destinations around Delta's international network including London Heathrow, Los Angeles and Brussels. This means that the onboard product to and from Lagos is exactly the same as enjoyed by customers flying on any Delta 767-300 aircraft flying throughout our international network.
This includes fully flat-bed seats in Delta One; additional legroom and recline in Comfort +; and seat pitches of up to 33 inches in the Main Cabin. Additionally, Delta is the only U.S. airline to offer individual in-seat entertainment at every passengers' seat on every international flight. We will also be introducing Wi-Fi to our Lagos flights in the coming months.
We've listened to our customers and have made adjustments to the service we offer, both on the ground and in the air such as a generous baggage allowance and special services on the ground. We have also adapted our on board meal offerings to better suit the preferences of customers flying to and from Nigeria.
Delta has an impeccable safety record for its operations worldwide, including those in Nigeria. When delays occur, Delta deeply regrets the inconvenience this causes to passengers' journeys when they are flying with us.
Such is Delta's commitment to Nigeria that during the recent fuel shortages at the airport, we put contingency measures in place to refuel in either Accra or Dakar in order to maintain our Lagos operations. We know that people's time is valuable whether their travel is for business or for pleasure and operating on schedule is equally as important to Delta. However, these delays currently caused by these refueling stops cannot be avoided.
On occasion other external factors can cause unavoidable disruptions to our service such as changing weather patterns or mechanical faults. In these instances, we may need to make operational decisions that affect our service because Delta will not compromise on the safety or security of our Passengers and crew.
We realize that this can cause regrettable delays to Our customers' journeys, however the safety and security of our passengers can crew remains our number one priority.
Signed
Bobby Bryan, Commercial,
Director for East and West Africa, Delta Air Lines