IT'LL BE SAD IF CHRISTIAN AND MUSLIM LEADERS CONNIVE TO DECEIVE THE NATION –PASTOR ELIJAH OLUSHEYE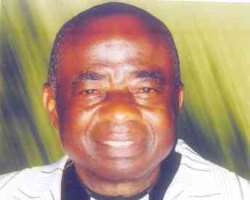 Pastor Elijah Olusheye, President, CAC Worldwide
Pastor Elijah H. L. Olusheye is the President of the Christ Apostolic Church Worldwide. He speaks with ADEOLA BALOGUN about the church and sundry matters.
Did the Christ Apostolic Church get an invitation through CAN to visit and pray for President Yar'Adua?
There wasn't any invitation at all. If it is not made public, then such visit has political undertone. A servant of the lord should not tell lies. If Christian leaders from different denominations met him, they represented the body of Christ. And if they gave testimony that they saw him and prayed for him, I will say that is enough. Why should everybody go there to see him? Those people who have been there to represent the Christian body or those who represented the Islamic body, I will say it is enough. If it is true that they saw him and prayed for him. God would justify their testimony. On our own part, we have been praying for him to overcome his problems.
But two days ago, the Acting President came out to say that he had not seen the President and that he was not aware of any visits by clerics to the President. Don't you think it is not proper for such things to happen in the Presidency?
If the Acting President could come out and say he has not seen the president, that is a matter for concern and it is bound to generate controversy. So if Christians would tell a lie in connivance with Muslims to deceive the nation, that is not so good.
There is this rumour that the Yar'Adua camp intends to use clerics and religion to divide the Presidency.
Well, if that is done, I believe the Christian leaders themselves have not represented Christ. And for the leaders to team up with the Muslims to tell lies to the nation, that will be too bad. But they will have nothing to reap from that. Maybe we should leave it like that.
At 74, how do you run the big CAC family?
Well, a mission like the CAC can only be run through the power of God. If actually you had a call from God and God backed you up, you wouldn't have any problem running a mission. I can just compare it with the experience of one of our political leaders, the late Obafemi Awolowo. When he was on the centre stage, he did almost everything first in Africa. It was not by much learning. I believe that he had the vision from God. When you surrender yourself to the Holy Spirit and you have enough theological education, you will be able to run a mission. But without bowing down to the bible and understanding what the bible teaches, and not receiving the Holy Spirit, you will only be exercising a very dry theology. You will only depend on mere academic ability, not a spiritual one.
We learnt that you met the founder of the CAC, Rev. Ayodele Babalola.
Well, I want to say that I spent time with the leader who founded the CAC and from him, I inherited many things. Some of the things I inherited from him were prayer, power of the Holy Spirit and faith in the Bible. He was a man who heard from heaven. God spoke to him face to face. And going through his call, if one is not going to be a bastard, that is somebody who will not just go and deceive the nation, and in the end, be judged by God, then you will know what to do. I lived with him, ate with him, prayed with him, learned from him how he received from God, and how he achieved success. Then I had no problem. Except I just want to be a bastard, I don't want to live a life that will make me a bastard; I don't want just to deceive people by not giving them the right thing and the right message to live the right type of life. I believe the Lord has helped me a lot to succeed, to be as successful as Apostle Babalola himself.
Were you introduced to him probably by your parents or did you walk up to him yourself?
If we want to go into all that, it will take us a long time. But let me say it this way. When I first met him in Efon Alaaye, I had a feeling. Then, I was in Methodist Church, but I was directed by inspiration to go and meet him. And the day I met him, he made a statement, which he did not interpret to me till today. He said, 'I have been expecting you'. That day, I stayed overnight and when I wanted to go, I had no penny on me. I went to the park and came back and I said Papa, I have no money on me and I want to go, and he said, you should have asked. 'When are you coming back again'. Then he gave me five shillings, I think. That was in January 1956. Before then, the Lord had been speaking to me. But when this happened, it was 1956. When I came back, I just joined like one of his previous family until the time of his death. I used to fast like he fasted. I used to pray, sometimes I would be on top of the mountain for six months. In those days, the church would arrange to give me food when I needed it. Sometimes, I would fast for 21 days without food and water, then the experience I had in those days were too numerous to share now. I experienced many great revelations and instructions from the Almighty God.