Phccima Boss Calls For Conscious Development Of The Spirit Of Enterprise To Stimulate Rivers Economy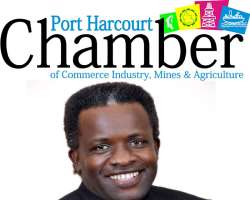 Piqued by recent slide in economic activities in Rivers State, President of Port Harcourt Chamber of Commerce, Engr. Emeka Unachukwu has called for conscious development of the spirit of enterprise among government and citizens of the state to improve and stimulate the Rivers economy and effectively address downward drift presently experienced in the state. He said the absence of the spirit of enterprise is the major factor affecting the economic vitality of Rivers State, adding that the development of a strong entrepreneurial base remain the only panacea to sustainable economic growth of Rivers State.
Speaking as a resource lecturer in a programme organized by the Rivers State Ministry of Commerce and Industry at the Atlantic hall of Hotel Presidential Unachukwu called for paradigm shift from what has been attainable. He expressed confidence in the new state Governor, Chief (Barr) Nyesom Wike whom he said has shown readiness to work with the private sector and embrace innovations that could help stimulate the economy of the state.
Unachukwu had in the presentation disclosed that Rivers state has a lot of potentials yet to be tapped founded upon the peaceful and friendly nature of its people who has shown proven credentials on excellent community relations with companies operating in its domain. He said Rivers state is undoubtedly investors' haven considering it is accessible by road with close proximity to a major seaport and International airport when compared to other states. He said there is considerable availability of power supply and infrastructure for enterprise development, insisting that Rivers state has the parameters for growth.
However in spite of all these potentials why is Rivers state still depressed? The answer according to him is not farfetched. Giving an insight on this he said the world over economic vitality of a city or state largely depends on the overall level of its entrepreneurial capacity. He said Rivers State is presently socially and economically depressed, adding that regrettably Injection of external investment funds and external expertise has not been able to transform Rivers State into a fast growing State.
The PHCCIMA boss explained that what the state need is the spirit of enterprise to drive both the state and its people to a whole new pedestal. Unachukwu defined Enterprise as a creative and innovative response to the environment, adding that it is ideas flowing from the inner mind that demands positive rekindling of the spirit that drives enterprise.
He said if Rivers state must move forward the government and its people must engage in entrepreneurship initiatives. Entrepreneurship according to him is not the same as doing business because in entrepreneurship location is not important but rather recognition of opportunity and implementation. According to him entrepreneurship breeds vision, passion, zeal and hardwork even in an unpredictable environment.
Unachukwu stressed on the need to develop a framework and in doing this he outlined factors to be considered which includes the experiences of an individual, the traditions of the family and the society in which he lives. Similarly he enlisted the support systems of finance, vocational training and extension services including supporting and mentoring governmental policy framework.
He said Rivers state need to grow and to achieve this she must identify entrepreneurs. "In identifying entrepreneurs we must avoid conventional wisdom and unfounded assumptions, the attitude of such individuals should not be a criteria and the age should not be raised as an issue but as just a number
The PHCCIMa boss explained that in developing the spirit of enterprise there are levels of developing framework which includes; Strategic Framework: This involves developing appropriate policies and special programmes for the development and channelling of entrepreneurial talents.
Tactical Framework: This involves defining the various modes of engagement and linkages by institutions supporting the development of entrepreneurship as well as strategic development alliances that will be required and funding.
Operational Framework: This involves attracting training that will promote entrepreneurial thinking and thinkings about development. All these according to him have huge impact on community and social settings and results in tremendous social progress.
The event which witnessed massive attendance from government officials, the academia and private sector revealed some of our problems and provided painstaking solutions.