Court orders Nnamani, companies to forfeit assets to FG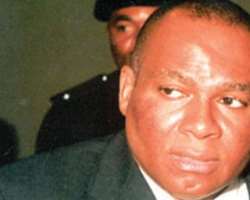 A Federal High Court in Lagos on Tuesday ordered the forfeiture of multi-billion naira assets allegedly owned by former Enugu State Governor Dr Chimaroke Nnamani, to the Federal Government.
The forfeited assets are undeveloped properties and transmission equipment of Rainbownet Nigeria Limited; properties of Hill Gate Investment Limited/Cuena Phones Limited; assets of Cosmo 105.5FM, and 22 duplex buildings at Ebeano Estate (now Fidelity Estate).
Other assets to be forfeited are Rainbownet shares in Zenith Bank and Guaranty Trust Bank, with a combined account balance of N4.6 million; as well as monies in its bank accounts.
The balances in different accounts with GTBank (total of N313,700); Sterling Bank (N986,958); Ecobank (N24.5 million); First City Monument Bank (N3.8 million) and Zenith Bank (N761,156) are also to be forfeited.
The Economic and Financial Crimes Commission (EFCC) which is prosecuting Nnamani for alleged money laundering, said it is awaiting details of balances in Rainbownet's 10 accounts with Access Bank.
The former governor who later became senator of the Federal Republic of Nigeria was arraigned alongside his former aide, Sunday Anyaogu, and six companies Rainbownet, Hillgate Nigeria, Cosmos FM, Capital City Automobile Nig Ltd, Renaissance University Teaching Hospital and Mea Mater Elizabeth High School.
Justice Mohammed Yunusa later split Nnamani's trial from his co-accused due to constant excuse of receiving treatment abroad.
EFCC re-arraigned them before the court on 105 counts of money laundering and economic crimes involving about N4.5 billion state funds.
Part of the alleged laundered money was from the Excess Crude Oil Funds meant for some local government areas, including Aninri, Enugu South, Agwu, Igbo Etiti and Isi Uzor, which was allegedly transferred to Nnamani's bank account in the United States.
The crime was allegedly committed while Nnamani was governor between 1999 and 2007. The defendants pleaded not guilty.
However, after the trial was split, four of the companies on May 19 pleaded guilty to a 10-count amended charge through their counsel.
The companies are Rainbownet, Cosmos FM, Capital City Automobile and Renaissance University Teaching Hospital.
They were alleged to have failed to comply with lawful inquiry made by the Commission.
On 11 June, Justice Yunusa adjourned till 7 July (today) after EFCC's lawyer Kelvin Uzozie told the court that he was still working to get a list of all the companies' assets.
On Monday, 6 July (yesterday), he prayed the court to convict the companies in view of their plea.
He also urged the court to make an order of the assets' forfeiture, and for the EFCC to be involved in their management.
Justice Yunusa held: 'It is hereby ordered that the properties listed in the schedule be forfeited to the Federal Government.'
He adjourned till 12 November 12 for the trial of the remaining accused persons. – The News.