Bailout: CBN directs states to submit loan details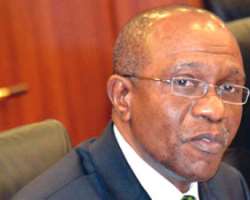 The Central Bank of Nigeria (CBN) has asked state governments to furnish it with the details of their loan obligations latest today (Wednesday).
The directive was contained in a statement issued late on Monday night by the Federal Ministry of Finance.
The statement said the directive was given by the CBN Governor, Mr. Godwin Emefiele, during an extra-ordinary meeting convened to share the revenue received from the Nigerian Liquefied Natural Gas to the three tiers of government.
According to the statement, N359,374,355,607.60 was collected by the Federal Inland Revenue Service and shared among the three tiers of government.
It said the Federal government was allocated N189,318,410,534.03 (52.68 per cent); the 36 states got N96,024,827,818.35 (26.72 per cent), while the 774 local governments got N74,031,117,255.16 (20.60 per cent).
The statement added that at the emergency meeting chaired by the Permanent Secretary, Federal Ministry of Finance, Mrs. Anastasia Daniel-Nwaobia, Emefiele informed the state governments that the Federal Government was worried about the inability of some of them to meet their obligations to their workers in terms of payment of monthly salaries.
It read in part, 'The CBN governor noted that the inability of most states to pay salaries was due to the huge debts hanging on their necks. Emefiele observed that most states were taking short term loans for long term projects and servicing their monthly obligations to the banks hampers cash flows, thereby restricting them from payment of salaries.
'The CBN governor also informed the states that the apex bank was willing to assist such states in restructuring the loans owed the commercial banks.