​On This Graduating Issue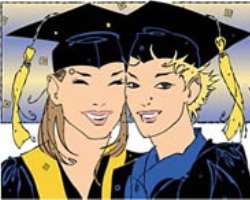 Yes, I proclaimed loudly to myself, "I am now in my final year, I have just a session left, then I will be free." Obviously, that means, free from tests, lectures, the stress and all associated with being a student in a government owned university in Nigeria.
As I ponder on the prospects of final year, I start to reminisce on what it truly means to be in final year. Yes, it is indeed a time to celebrate and thank God for keeping one thus far. But one important question that keeps popping up in my head, it is that "have you decided the activities for the next year and forward?" That's the big question that seeks answers before dancing around campus after my last exam paper, I thought to myself.
The unemployment rate stands at 24.2% in the first quarter of 2015 as reported by the federal Bureau of Statistics (FBS) but which the International Monetary Fund (IMF) has rebuked and claimed to be around 70%.
We still live in a society where who you know is really what matters in scaling the labour market. We still exists in a society where families still struggle to meet up with the $1,25 per day threshold also called the Poverty Line set by the World Bank in 2008. It's still the same society where 3 in 10 startup businesses only survive past the first 3 years of business.
As clear as this facts are, I ask myself, why then the hurry to graduate. Some proponents have said it's the dwindling quality of graduates that account for this malaise. It is said that we are more interested in certificates and all. Incidentally, in my stay on campus, I have realized that career enhancing programs are more filled up in attendance, if its organizers announces certificates to its attendees.
Here, the Capabilities Approach of AmartyraSen, (a 1998 Nobel Prize winner in Economics) where he stated that, "individuals should be judged on what they can do and not what they have". Unfortunately, MOST GRADUATES want to boast of what they have and not what they can do.
Also, I also know that many have propagated the gospel of entrepreneurship as the way out. This is maybe why the National Youth Service Corps (NYSC)has recently began to provide such trainings to corps members but to what extent have they yielded results. As it is popular say that "you can take an horse to a stream, you can't force it to drink water".
Entrepreneurship in my opinion, will only be successful if it satisfies three (3) conditions, first the individual (i.e the entrepreneur) must not be risk averse. Someone that is risk averse fears risks and may not want to invest his money or effort into an uncertainty. Secondly, he must be able to identify a unique problem he intends to solve and lastly S/He must have set skills at marketing his ideas or services to prospective investors and clients respectively. Of this three conditions, none can just be mastered by mere fact of interest in entrepreneurship.
In my own opinion as a Final Year Student, the best way to enjoy your final year is living like a graduate already. This means that we must streamline our activities towards that our graduates. For example, for those with career interests, creating an impressive Linkedin™ account may just be the head start you need. It will also do you good in honing yourself with necessary skills (microsoft office tools, report writing, team strategy and multitasking among others) required in the corporate world.
It is time to put your CV together, enough of the wait!
And to those tilting towards entrepreneurship, the campus is the best ground to kick start that your business as this environment is a controlled one and not like society where some variables cannot be accounted and controlled. Many successful entrepreneurs and business owners today worthy of emulation from the west started out their business right from campus. The question that arises is how many successful Nigerian entrepreneurs can boast of starting from campus.
I have also realized too that to many students, entrepreneurship is considered as a way out from poor academic performances, a low CGPA is not an excuse to venture into business. Entrepreneurship requires smartness and foresight to be highly successful in.
So, to conclude, I have made up my mind from now henceforth to live like a graduate already and constantly improve myself because when it comes to what really counts, that is what matters, so also the God factor.
AbiolaAyodejiGbemisola
Tweet me @biolagbemisola. BBM on 5634DB57
Disclaimer:

"The views/contents expressed in this article are the sole responsibility of the author(s) and do not necessarily reflect those of The Nigerian Voice. The Nigerian Voice will not be responsible or liable for any inaccurate or incorrect statements contained in this article."
Articles by Abiola Ayodeji Gbemisola