HND/B.Sc Holders Discrimination In Armed Paramilitary Agencies: Irrelevant, Dangerous & Unconstitutional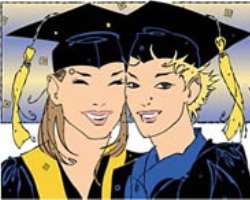 Federal Government should please end this certificate discrimination between HND & B.Sc. holders in Federal Ministry of Interior (Prisons, Immigration, Civil Defence) and others in order to increase their productivity.
This discrimination is irrelevant, dangerious, unethical and unconstitutional.
There is a looming bloody clash between these two cadres at fields of operation due to live arms/ammunition they bear and that is why every well meaning Nigerian should help towards scrapping out this because you/ your family will become victim directly/indirectly & never ask
God why because you caused it by not publishing or broadcasting this message.
Few of the discriminations witnessed in Min. of Interior are;
• HND (Inspectorate Cadre), while B.Sc. (Superintendent Cadre).
• Entry Level for HND is G/L 7, while a fellow Graduate with B.Sc. is G/L 8.
• HND G/L 7 earns (#70,000 pm), while B.Sc. G/L 8 earns (#120,000 pm).
• Terminal Point for HND is G/L 13, while B.Sc. is to the highest G/L.
• HND/ inspectorate cadre ranks are confusing, while superintendent
ranks are normal ranks/recognized ranks in military/paramilitary
agencies.
• B.Sc Holder hardly pay complement to his superior officer with HND
certificate.
• HND graduates are denied one Grade Level during rank conversation.
Above all, HND holder in this Ministry of Interior are regarded and treated as artisans with WASC or Trade Test qualifications.
It is shameful that staff of Ministry of Interior and others as affected no longer concentrate on their duties or bring ideas that could help the job, rather they focuse on getting more certificates by hook or by crook in order to be converted to superintendent cadre.
It is obvious that other well recognised security agencies like;
Nigeria Military, DSS, Nigerian Police, etc do not discriminate in ranking between HND & B.Sc. Holders.
Federal Government should merge Ministry of Interior with Police to stop this nonsense if they persists in this evil act called discrimination.
Disclaimer:

"The views/contents expressed in this article are the sole responsibility of the author(s) and do not necessarily reflect those of The Nigerian Voice. The Nigerian Voice will not be responsible or liable for any inaccurate or incorrect statements contained in this article."