APC crisis: Akande urges Buhari to salvage party from imminent collapse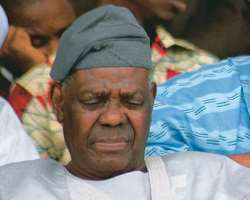 As part of his own contribution to resolve the crisis rocking the National Assembly over election of its principal officers, former Interim Chairman of the All Progressives Congress, APC, Chief Bisi Akande, yesterday, called on President Muhammadu Buhari and governors elected on the platform of the APC to close ranks and salvage the party from imminent collapse.
According to him, 'what began as political patronages to be shared into APC membership, spreads among ethnic zones, religious faiths and political rankings and experiences have now become so complicated that the sharing has to be done by and among PDP leadership together with cohorts of former new-PDP affiliations in the APC, by and among gangs of past anti-Buhari's presidency, and certain APC legislators and party members who dance round the crisis arena to pick some crumbs.'
Akende painted a gloomy future of the party if the leaders of the party fail to urgently address the crisis rocking the APC. He alleged that those fuelling the rebellions against the APC positions, which led to the emergence of Senator Bukola Saraki, were old new-PDP tendencies.
Describing the crisis within the APC as a conspiracy, he said, 'now that the whole conspiracy has blown open, it is doubtful if the present institutions of party leadership can muster the required capacity to arrest the drift.
'It is my opinion that President Buhari, and the APC governors should now see APC as a wrecking platform that may not be strong enough again to carry them to political victory in 2019 and they should quickly begin a joint damage control effort to reconstruct the party in its claim to bring about the promised change before the party's shortcomings begin to aggravate the challenges of governance in their hands,' Akande stated.
Explaining the merging of the ACN, ANPP and CPC, the former chairman said 'some times in 2013 ACN, ANPP and CPC resolved to merge and set up a merger committee to work out the modality for glueing together as one political party under one name, one constitution and one manifesto.