NORD STREAM GAS PIPELINE UNDERWATER CONSTRUCTION STARTS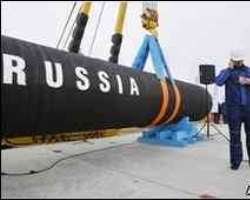 The construction project is due for completion in 2012
Construction of the controversial Nord Stream pipeline from Russia to western Europe under the Baltic Sea has been officially launched.
Gazprom holds 51% of Nord Stream, which will run from the Russian port of Vyborg to Germany's Greifswald.
Russian President Dmitry Medvedev and German Chancellor Angela Merkel attended the ceremony near Vyborg.
The project was given the go-ahead only in February amid fears that the pipeline could damage the Baltic Sea.
President Medvedev said at the ceremony that the pipeline "for the first time – which may be one of its main achievements – will ensure direct supplies of Russian gas to western Europe, bypassing transit territories".
The existing pipelines run from Russia to EU countries via Ukraine, Belarus and Moldova.
'Binding obligations'
All the gas volumes have either been contracted, or have been formalized in binding obligations
Alexander Medvedev, Gazprom
Should Gazprom fear shale gas revolution?
Russia provides up to 30% of the gas consumed in Europe, and many European countries have been keen to secure alternative energy supplies.
Critics have argued that European countries do not need more gas from Russia and that the project is too expensive.
But Gazprom deputy chief executive Alexander Medvedev said there was plenty of demand for the gas.
"All the gas volumes have either been contracted, or have been formalized in binding obligations," he told journalists.
Gas supplies from Russia to Europe have been threatened or disrupted in the past due to political and financial disputes between Moscow and its neighbours.
But Russian President Dmitry Medvedev said at the ceremony: "This country [Russia] has been cooperating with European neighbours in the gas sector for over 40 years.
"This cooperation has stood the test of time to the full extent."
The ceremony was also attended by Nord Stream board chairman and former German Chancellor Gerhard Schroeder, Dutch Prime Minister Jan Peter Balkenende and European Commissioner for Energy Gunther Oettinger.