CBN denies rice, cement importers access to forex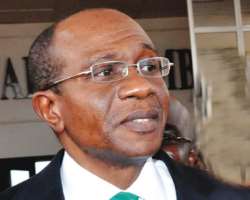 The Central Bank of Nigeria says importers of rice, cement and other products will no longer access Foreign Exchange from CBN, banks and bureau de change for such importation.
The CBN Governor, Mr. Godwin Emefiele, who made the disclosure to newsmen in Abuja on Wednesday, said the measure would prevent further depletion of the country's foreign reserve.
He said the country was spending huge amount to import things that could be produced locally.
Emefiele said the apex bank would not continue to support the importation of such items through the use of the hard earned foreign exchange.
Some of the products include margarine, palm kernel, palm oil products, meat and processed meat products, vegetables, private airplanes and jets, Indian incense, tinned fish, galvanised steel sheet, roofing sheet and furniture.
'Importers who may want to continue importing these goods would have to sort their foreign exchange from their own private sources.
'The CBN will continue to be vigilant around this policy, keep reviewing the list of items as it becomes comfortable that these items can be produced locally if we apply ourselves sufficiently.
'This policy change is in line with the belief that Nigeria cannot attain its true potential by simply importing everything into the country.
'We have to decide what we really want for our country and I believe that the time is now for that deep and honest conversation,' he said.
He said in spite of relative positive Gross Domestic Product growth over the past seven years, there was no corresponding reduction in unemployment and poverty.
He said bank's analysis of the situation had compelled it to stop forex access to some of these goods to encourage local production and consumption for economic development.
He also said that the Federal Government was spending about N1.3 trillion on the average annually to import rice, fish, sugar and wheat. NAN