Enugu: Gov. Ugwuanyi to partner FRSC on revenue generation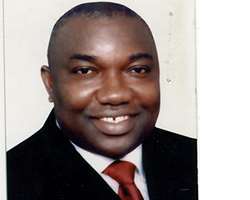 Governor Ifeanyi Ugwuanyi of Enugu State has assured the management of the Federal Road Safety Corps (FRSC) of the readiness of his administration to partner with the commission to boost the Internally Generated Revenue (IGR) of the State.
The Governor made this known while receiving a delegation of the FRSC led by its Corps Marshal and the Chief Executive Officer (CEO), Corps Marshal Boboye Oyeyemi, who paid a courtesy call on him, yesterday, at the Government House, Enugu.
He noted that the commission's request for the State Government to provide more work stations for its official engagements was a welcome development that woulf increase the revenue generation of the state.
The governor who thanked the commission for its cooperation and partnership with the State Government, also urged it to continue with programmes and policies that would assist his administration to realize its electoral promises on employment generation and investment promotion.
Governor Ugwuanyi applauded the commission for its proposal to decongest the popular 9thmile corner, Enugu before the festive season.
He noted that his administration has prominently mentioned the development of the area in its action plans, adding that a committee was already working to adjust the state budget to accommodate the area for immediate action.
Earlier in his speech, the Corps Marshal and Chief Executive Officer of the Federal Road Safety Corps (FRSC), Boboye Oyeyemi told the Governor that they were at the Government House to felicitate with him on his electoral victory and also request for more partnership with the state for increased capacity building and work stations in order to boost the internally generated revenue of the state.
He disclosed that Enugu was one of the key states that have cooperated well and contributed their quota towards the progress of the commission, adding that it had designed a short term measure that would avert the problems being encountered at the 9th mile corner mostly during the festive season.
The Corps marshal further disclosed the commission's decision to convene a meeting of all critical stakeholders, including tanker drivers, in the country to marshal out the best action plans towards achieving a free accident nation.