On Nyesom Wike's Admission That Funds Were In Rivers State Accounts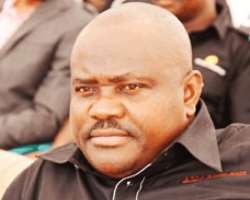 The Governor of Rivers State, Chief Nyesom Ezenwo Wike's admission, during a Live Radio Program (View Point) on 93.7 RythemFM in Port Harcourt today, 20th June 2015, that he found N1.8billion in the Rivers State IGR Account has vindicated me and most importantly Rt. Hon. Chibuike Rotimi Amaechi.
You would recall, that upon assumption of office, Nyesom Wike set out with only one Agenda, to disparage former Governor Amaechi. He is still on the "aimless and wasteful" vendetta mission. First it was an orchestrated story of looting of Government House. Next was story of empty coffers. However, today under pressure from an interviewer, Wike hesitantly admitted to having N1.8billion in one of the Accounts as I had listed.
Once again, I dare him on all other accounts that I had listed.
This brings to the fore the character and integrity of the man who seeks to govern Rivers State. Few days ago, even after my statement was put out in the media that former Governor Amaechi left over a cumulative of N7.billion in all Rivers State Accounts put together, Chief Nyesom Wike still denied vehemently that any funds were left in the Rivers State Accounts.
Today, he unashamedly admitted but didn't even have the courtesy and civility to apologize to the State and to explain the reason for the discrepancies in his position on the funds issue. That is not only lousy and unbecoming of a person in such public position, but it is also unacceptable; and Rivers people will not accept that.
The only situation that has made Chief Wike squeal was my threat to seek court order to make the Accounts public and until he admits all, I will approach the court to obtain an order to make the account statements as at 28th May, 2015 public
Needless to say, that we now have a serial liar on the saddle.
Achi William-Wobodo
Former Special Assistant (Documentation/Inter Governmental Matters)
to the former Governor of Rivers State (Rt. Hon. Chibuike Amaechi)