Pipeline contract: FG must pay ex-militants, as Diezani failed to pay us, says Asari-Dokubo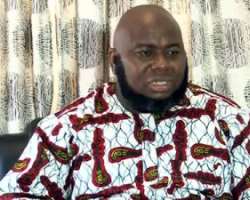 Former Niger Delta militant leader, Mujahid Asari-Dokubo, has called on the government of President Muhammadu Buhari to pay contractors of the oil pipeline surveillance project in the country.
Asari-Dokubo, who is one of the former Niger Delta agitators awarded pipeline surveillance contract by the Federal Government, told PUNCH that the three-month deal elapsed on June 15.
He said that the ex-minister of Petroleum Resources, Diezani Allison-Madueke, did not sign for the payment of the pipeline surveillance contract before she left office.
The pipeline protection project, which cut across Lagos, Ogun, Bayelsa, Ondo, Rivers, Bayelsa and Delta States, was executed from March 15, 2015 to June 15.
Asari-Dokubo urged President Buhari to pay the contractors their money if he was truly committed to the rule of law.
'Diezani (Allison-Madueke) did not sign payment for the contract before she left. All across the six states (Lagos, Ogun, Ondo, Rivers, Delta and Bayelsa) where the contract was awarded none of us were paid; none of the companies were paid. The Federal Government should do what is needful by paying the money they owe. The same mandate that was given to Buhari to become President was the same mandate that was given to us in a legal and binding contract.
'If Buhari is law-abiding and if his government respects the rule of law, the contractual obligations will be followed. The contract was awarded to corporate entities by the Nigerian National Petroleum Corporation. We did not go in as individuals and the corporate entities are regarded as individuals under the law. No contract was awarded to any specific individual,' he said.
The former militant added that he and other contractors would follow due process to get their money from the Federal Government.
He appealed to the President not to set a bad precedent where government will fail to pay contractors who had executed their contracts.
'The same way they give contract to people to lift oil; the same way they give Julius Berger contracts to build roads; the same way they give people contracts to build houses; that is the same way pipeline surveillance contracts were given to us. But they (FG) are not paying for the work done. It is against the law of the land. Paying us our contract money is the right thing he (Buhari) ought to do and for any reasonable human being,' Asari-Dokubo said. Punch