More flight bombers coming - Abdulmutallab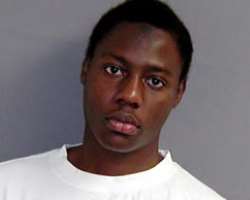 Umar Farouk Abdulmutallab reportedly tells the FBI to expect more bombers like him. Latest photo of Abdulmutallab released by US Marshal's Office.

The underpants bomber who planned to bring down an airliner on Christmas Day has told interrogators there are more like him back home - and they are ready to strike.
ABC News reported this morning that Umar Farouk Abdulmutallab told FBI agents that other operatives are being trained in Yemen and would soon attack.
The network added no further details to the report.
Abdulmutallab, 23, claims he was trained by Al Qaeda operatives in lawless Yemen, an emerging hotbed of violence.
In Amsterdam, military police say they are looking at security videos for evidence of an accomplice after two passengers told the Daily News and a Michigan website that they saw a well-dressed man trying to convince a gate agent to let the terrorist aboard without a passport.
"At this moment we have no information on whether there was another guy," a military police spokesman told Reuters. "We are checking all clues and information we get."
Abdulmutallab's parents released a statement expressing regret and horror at their son's actions. They repeated that they alerted Nigerian security forces and US embassy officials a month and a half ago that their son had become radical and disappeared.
The parents, wealthy and prominent Nigerians, said they hoped to have their son found and returned home.
"We provided them with all the information required of us to enable them do this," they said. "It was while we were waiting for the outcome of their investigation that we arose to the shocking news of that day."
Abdulmutallab tried to blow up Northwest Flight 253 from Amsterdam to Detroit on Christmas Day, but managed only to set his crotch, legs and seat 19A on fire.
The family said his cutting of ties was "completely out of character and a very recent development."
"From very early childhood, Farouk, to the best of parental monitoring, had never shown any attitude, conduct or association that would give concern," they said.
They promised to continue to cooperate with authorities probing the attack.
Abdulmutallab claims to have been training in Yemen, which has become a dangerous new haven for al Qaeda extremists.
An ongoing series of air strikes have targeted militants meeting in the mountains - sparking fury and threats of revenge.
In a Dec. 21 video tape released online just four days before the attack on the Detroit-bound Northwest plane, an al Qaeda militant in Yemen boasted, "We are carrying a bomb to hit the enemies of God."
Any connection between Abdulmutallab and the Yemen faction of al Qaeda has not been confirmed, officials said.
A court hearing scheduled for Monday in Detroit Federal Court was unexpectedly canceled.
No reason for the cancellation was given. Prosecutors had been expected to ask for a DNA sample from the defendant, who had been expected to appear.
Meanwhile, Homeland Security Chief Janet Napolitano, who was lambasted Sunday for saying the system was perfectly safe and worked "like clockwork" after the bombing was foiled, went on all the morning TV shows to admit the system failed.
"Our system did not work in this instance," she said on NBC. "No one is happy or satisfied with that. An extensive review is under way."