Ugwuanyi pays unscheduled visit to LG councils, schools, warns against truancy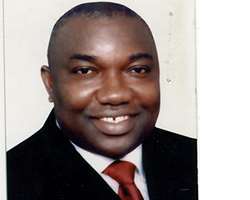 The Governor of Enugu State, Chief Ifeanyi Ugwuanyi, has sent warning signals to government officials, local government council chairmen and their staff on the need to be punctual at duty posts and discharge their duties creditably.
Governor Ugwuanyi sent the signals when he paid an unscheduled inspection visit to Awgu and Aninri local government areas of the state on Wednesday morning.
The Governor, who was accompanied by the deputy, Hon. Mrs. Cecilia Ezeilo, the State Chairman of PDP, Chief Ikeje Asogwa among other government functionaries, also visited Saint Vincent Secondary School, Agbogwugwu.
At Awgu local government council, the governor and his entourage arrived the headquarters at about 9:am in the morning only to discover that principal officers of the council including the chairman, Mr. Mathanus Nnanna Nze were not in the office to receive him.
Most of the offices of the council were under lock and key with very few staff, mostly security men and cleaners.
The story was the same at Aninri local government council headquarters, Ndiabo where the governor and his team arrived at about 9.50 a.m.
Apart from the Chairman's office where the governor met a security man on duty and two supporting staff, Nneka Ndubisi and Judith Nwafor and some youth corpers, the entire offices had not been opened.
On enquiry, the staff in the council area could not give satisfactory explanation on the whereabouts of the Chairman, Mr. Nwabueze Nwobodo and his principal officers.
At Saint Vincent Secondary School Agbogwugwu, the story was different
as the Principal of the School, Mr. Silas Okafor and his staffs were there to receive the Governor and his entourage.
The school was in full session and both teachers and the students were in their classes doing their job.  The Governor took special interest in one of the classes and decided to stand by the students and listen to the mathematics teacher deliver her lesson.
Addressing the students, Governor Ugwuanyi told them that the visit was to inspect the school, interact with the students and teachers with a view to identifying their problems.
He explained that his administration will give priority to education development and will do every thing possible to ensure that students in the state were given the best education as future leaders of the state and Nigeria.
The governor took notice of three students who did not appear in their school uniforms, Master Okafor Chisom, Kenneth Chukwuka and Udowo Gideon and promised to assist them and also address the problems of the school.
The Principal of the school, Mr. Okafor and some students drew the attention of the Governor to some of their problems which included poor office space for staff, lack of classrooms, science laboratories, library, toilet facilities and items of furniture, repair of their Corpers' Lodge that was gutted by fire, among others.
They therefore thanked the Governor for the visit and appealed to him to come to their aid.