Allocation Of Credit Reslut Grades To Dead Students Of Oko Poly & Related Matters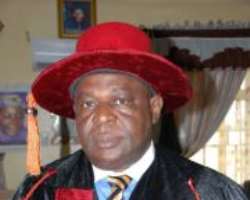 Ref: Intersociety/NG/06/015/002/Rector/FPO/AN
Prof Godwin Onu
Rector, Federal Polytechnic
Thro
The Deputy Rector (Administration)
Office of the Rector, Federal Polytechnic
Oko, Anambra State, Nigeria
Sir,
Complaint Against Wrongful Allocation Of Results To Deceased Students & Related Issues: A Call For Investigation & Redress (2)
(Public Issue, Onitsha Nigeria, 4th June 2015)-Sir, International Society for Civil Liberties & the Rule of Law-Intersociety, is an international rights organization formed and incorporated in 2008 with headquarters in Onitsha, Southeast, Nigeria. Intersociety thematically works for protection and advancement of democracy and good governance, civil liberties and rule of law as well as security and safety. Our advocacy activities and other information about us are available on www.intersociety-ng.org .
Sir, it is recalled that we have on 21st May 2015 written your respected office through the School's Deputy Rector for Administration. Our friendly letter arose from several oral and written complaints to us by concerned students of the Science Laboratory Technology of the Higher National Diploma (ND 2) of the 2012/2013 Session or "ND Finalists". The crux of the complaint-letter is the wrongful allocation of credit grade exam results to some deceased students as well as some students of the said Department of the Science Lab Tech who left the School long before the referenced exams ( 2nd semester of ND 1-2012/2013 Academic Session).
There was also gross mix up and missing results involving many students of the Department who took part in the referenced exams. As we write, the affected students are restless and in a state of fear, anguish and despair following uncertainties surrounding their fate as final year students. We have it on good authority that they will be leaving the School in less than two weeks. In all, 400 students, out of 700 students of the Department are affected by the anomalous results under reference. Reports also have it that the students particularly the likes of Ejidike Stephen (07064601819) and Agu Oluchukwu (08089958161) are being threatened and labeled rebels by the School authorities particularly by their Head of Department, one Dr. Mrs. Rufina Muoka Ogechukwu (08037503949). Sir, the first letter under reference, dated 21st May 2015, is reproduced as follows:

"In April 2015, some students of the Science Lab Technology of the Higher National Diploma (ND 2) of your respected Polytechnic made a complaint to our leadership in Onitsha, Nigeria concerning the above subject. The referenced students, who complained on behalf of themselves and their colleagues, belong to the 2012/2013 Session (ND finalists).
Complaint: That their 2nd Semester ND 1-2012/2013 Academic Session examination results contained fundamental omissions such as missing results, mis-allocation of results and allocation of results to the deceased and former students that never took part in the referenced examination. That prior to the referenced anomalies, your respected office and your person had the honour and privilege to address the students of your respected Poly including the student-complainants immediately the end of protracted public Poly strike of 2013; and assured them of the safety of their academic journey in your respected Poly including safety of their results and related academic records. The referenced assurances of your respected office followed possible misplacement and defacing of academic files and documents owing to the said unfortunate protracted strike.
The referenced students' complaint followed anomalies found in their results when they were officially released. While some found theirs missing, others were awarded low marks. The most striking of it all was discovery made whereby some deceased students who died long before the referenced exams were held; were awarded excellent marks. Some students who left the respected Poly long before the referenced exams were also awarded favourable marks.
One of the deceased students awarded marks in exams he never participated is late Ezeh Uchenna with Registration Number FPO/SLT/ND/R1/012/038. He was given upper credit or "3.05" and awarded 67 in Cell Biology (STB 121), 81 in Organic Chemistry (STC 121), 60 in Physical Chemistry (STC 122), 49 in Electricity & Magnetism (STP 121?), 44 in Optics & Waves (STP 122), 66 in Analytical Chemistry (STC 123), 70 in General Lab Techniques 111, 69 in Computer Packages 1(COM 123), 64 in Research Method (STC 201) and 52 in Citizenship Education (GNS 127). Some of the students who left the respected Poly after the first semester of ND 1, but awarded the anomalous results are Offorbuike Ginika and Offorbuike Daniel with Reg. Numbers FPO/SLT/ND/R11/012/160 and FPO/SLT/ND/R2/012/212 respectively.
Internal Complaint/Investigation: Following the anomalies under complaint, the affected students made frantic efforts to draw the attention of their lecturers and head of department. They also reached out to the office of the Registrar of the respected Poly as well as Dean of Studies of the School of Applied Sciences. The referenced complaints were put in writing as advised by some of their lecturers. Sadly, their head of department, who is now a Dean, reportedly scolded them and terrified them for speaking out and putting their grievances in writing and availing them outside their department. They were also reportedly threatened with rustication and accused of being instigated by certain malicious persons.


On our part, on receiving the complaint, we reached out to our journalist-friends in the respected Poly's Public Relations Office and they promised to intervene and get the issue resolved amicably and satisfactorily. But from the middle of April till this date, nothing assuring has come from the said promise.
Call: We call on your respected office to look into the matter and resolve same timorously. Strictly speaking, we see nothing wrong in students raising a complaint over their academic results fate. What ought to and still need to be done is to investigate their complaint with intent to finding merit or demerit in their referenced complaint and if it has merit, the anomalies should be corrected; if no merit is found, it should be communicated to them as well, with facts showing their complaint lacks merit. This is more so when the affected students said they have already conferred with some of the lecturers that handled the referenced courses and the exams, resulting in differences in the lecturers' raw result score sheets confirming the students' complaint.
This notwithstanding, there should be formal and comprehensive investigation into the complaint by your respected office or by a body delegated by your respected office. We also advise against meting out any punitive action against any or all of the affected students".
The Purpose Of Our Second Letter: Our second letter to your respected office follows continuing threats on the lives and liberties of the affected students including the duo of Ejidike Stephen and Agu Oluchukwu, who are accused of being paid or hired by some lecturers to destabilize the School and attack and unseat the referenced Head of Department (HOD). The latter accusation has consistently featured in face to face contacts between the students including Ejidike Stephen and Agu Oluchukwu and the Head of Department under reference. One of such contacts took place on Monday evening of 25th May 2015, when the referenced students went to her office to remind her of their problem. She reportedly not only bashed them, but also threatened their human person forcing them to flee her office.
Just two days ago-2nd June 2015, they were called and invited telephonically by the School security authorities to come and defend the letter Intersociety wrote to the School and defend their involvement over same. The students also informed Intersociety that their names have been forwarded to the School's Anti Cult Brigade to be treated as common criminals and cultists. As a matter of fact, they have gone into hiding; operating amorphously to avoid being physically assaulted and held captive. Their state of mind is also psychologically battered leading to mental torture.
We regard these approaches as very uncalled for, reprehensible, despicable and condemnable. The School (Oko Federal Poly) under your respected midwifery must not be an outlaw and dangle with the provisions of the Constitution of the Federal Republic of Nigeria 1999 particularly its Sections 35 (personal liberty), 36 (fair hearing) and 39 (freedom of expression). Your School must also understand that the engine room of the corporate social responsibilities, which it is a party to; is founded on human rights. Students who complain of certain anomalies through duly constituted processes are not only sticklers of due process, but also entitled to fair hearing and free speech or expression.
It saddens our heart that till date, no reasonable investigation over the students' complaint has been commenced and concluded by the School authorities. As for the referenced Head of Department, who was newly elevated to the academic rank of Deanship, we demand that she should be called to order and compelled to revisit the issue under complaint. As we have earlier demanded, no student of the referenced Department should be punished or maltreated over the issue.
The students' position and assertion that the lecturers that handled the referenced courses and exams should be compelled to tender their raw result score sheets for the purpose of crosschecking results in their possession with those wrongfully published by the Department and the School authorities; should be commended and heeded. The recent order of the said HOD to lecturers of her Department to upload all continuous assessment works in accordance with published anomalous results; should be suspended until a full and conclusive investigation into the complaint is carried out and its findings made and communicated to the affected students.
Yours Faithfully,
For: International Society for Civil Liberties & the Rule of Law (Intersociety)
Emeka Umeagbalasi, B.Sc. (Hons) Criminology & Security Studies
+2348174090052(office)
[email protected] , [email protected]
Uzochukwu Oguejiofor, Esq., (LLB, BL), Head, Campaign & Publicity Department