Condemning Expulsion from South Sudan of UN Deputy Special Representative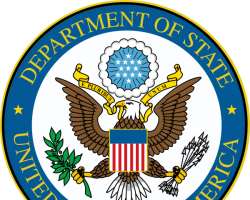 WASHINGTON, June 3, 2015/African Press Organization (APO)/ -- STATEMENT BY JOHN KIRBY, SPOKESPERSON
The United States condemns the Government of South Sudan's decision to expel the United Nations Deputy Special Representative in South Sudan and Humanitarian Coordinator of the UN Mission in South Sudan (UNMISS), Toby Lanzer. The expulsion of Mr. Lanzer is an affront to the international community working to bring peace and stability to South Sudan, and demonstrates a callous disregard for the suffering of the South Sudanese people. The government's priority should be bringing an end to the violence that has already displaced more than 2 million of its citizens – half a million of whom are now refugees in neighbouring countries – and left 4.6 million facing extreme, life-threatening hunger.
The United States has contributed more than $1.1 billion in emergency aid to house, feed, provide medical services and improve water, sanitation, and hygiene services for the people of South Sudan. We strongly support the work of the UN Mission in South Sudan and that of Mr. Lanzer who has been instrumental in addressing the dire humanitarian needs of conflict-affected communities and has been a strong partner and advocate for vulnerable populations in South Sudan.
We join UN Secretary-General Ban Ki-moon and other governments in calling on the Government of South Sudan to reverse its decision and to cooperate fully with all United Nations entities present in South Sudan, as well as other international organizations working on behalf of the South Sudanese people.