Gov Obiano Weeps as Petrol Tanker Fire Burns Scores to Death in Onitsha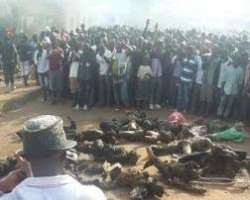 No fewer than 69 persons burnt to death Sunday evening when a trailer loaded with Premium Motor Spirit otherwise known as petrol that was descending from Army barracks side of Onitsha Enugu express way lost control and rammed into the Asaba Motor Park at Upper Iweka, Onitsha and exploded.
Reports say eleven vehicles mostly commuter buses and two motorcycles inside the Asaba Park Onitsha including the 40 foot tanker laden with petrol burnt beyond repairs inside the park.
Governor Willie Obiano who immediately rushed to the scene of the accident, on hearing it, wept on seeing the number of casualties. The Governor told the relations of the victims to take heart and promised that the state will help in ensuring that the living victims are well taken care of in their respective hospitals
According to the Nigerian Red Cross Society Chairman, Prof Peter Emeka Kathy "we have sixty nine burnt to dead persons as at now, there are other 30 casualties, a casualty is a living person, a dead person is no longer a casualty, so 69 persons are dead, and they have bee evaluated to various mortuaries in Onitsha, from Toronto to St Charles Boromneo Mortuaries and others in town".