AMAECHI CRITICISES COUNCIL CHAIRMEN'S USAGE OF FUNDS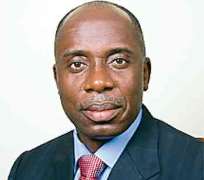 Rivers State Governor Rotimi Amaechi on Thursday expressed concern over what he described as the improper utilisation of funds by local government chairmen in the state.
Amaechi spoke while inaugurating Mr. Raymond Wokocha as the new chairman of Ogba-Egbema-Ndoni Local government Area at Government House, Port Harcourt, News Agency of Nigeria reports.
According to him, funds meant for primary health care and education are being improperly utilised by the chairmen.
NAN reports that the state government had taken over the payment of salaries of primary school teachers, renovation and building of primary schools and primary health centres.
Amaechi wondered why the councils had not recorded significant improvement in their performance even as the state government had taken over some of their responsibilities.
The governor called on council chairman to give account of how the funds meant for the two sectors were being utilised.
'They used to pay primary school teachers' salary totalling over N1bn; we have taken that over; we paid with our own money, not their money.
'So the question to ask is what has been happening to that money in their possession?' he asked.
Amaechi said the state government would equip and employ staff for the model health centres being built across the state while the councils would continue to pay the salaries of their health workers.
He charged the new ONELGA chairman to serve with the fear of God and utilise the resources of the council to impact positively on the lives of the people.
Speaking with Government House correspondents shortly after the ceremony, Wokocha said the focus of his administration would be to fight corruption and impact positively on the people.