DIGITAL COLOUR PHOTO LABORATORY AS GOLDMINE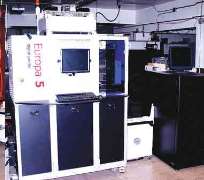 Social events in Nigeria are thought to be incomplete without photographers who take pictures that are later sold to guests. This mobile photo business has become faster and better with the digital revolution making it possible for them to print shots taken with both analogue and digital cameras on digital printing machines.
Experts say the digital revolution influenced photography and photo printing business in no small measure forcing many analogue printing laboratories to go digital.
Today, many photo printing houses in Nigeria either combine digital units with their old analogue facilities or go fully digitalised.
With millions of affordable digital cameras and camera mobile phones, digital colour laboratory has become a goldmine for aspiring investors with requisite funds because of its capital intensive nature.
The General Manager, Fotoronics Digital Colour Laboratory, Mr. Dennis Ettah, agrees that running a digital colour photo printing laboratory could be a steady and profitable business for entrepreneurs, adding that it is particularly profitable in Nigeria because of the way digitalisation is embraced.
Etta, who has about 27 years experience in photo printing industry, says digital colour photo printing is not a small scale business because its requires between N30m to N50m to take off.
He says, 'Before now when we largely run analogue facilities, you could set up a photo printing laboratory with between N5m to N7m but things have changed with digital technology. If you want to run a successful digital photo laboratory, you must at least have up to N30m aside the cost of securing a space for the business.'
'Although many have subscribed to digital photo production, there are still a large number of people who still prefer analogue printing due to pricing. So, you may also consider acquiring an analogue machine. For instance, at Fotoronics, we have a complete analogue machine that looks like a digital machine displaying photographs on the screen. The only different is that you cannot edit the pictures on the machine,' he says.
Ettah, however, says that one can start small with about N10m buying smaller but efficient machines to operate.
Giving a possible breakdown of how the N10m initial investment may be spent, he says that a Japanese Noritsu QSS – 3010 printing unit, one of the machines in his company, can be acquired with about N7m, adding that ' you will still need a film processing machine to process analogue pictures to digital print. Many photographers in Nigeria still use analogue cameras, so for you to print analogue pictures on digital machines, you have to buy a processing machine which also costs about N1.5m.'
Although power supply, according to Ettah, is a major challenge to the business, he maintains that it is profitable and investors can actually recoup the N30m investment in six months. 'It is a profitable business. I am making profit. Power supply is the only setback in the business but we have been able to sustain the business, albeit, with small margin.'
He further says, 'I will give you six months to recoup your investment if you know what you are doing. Social events never end in Nigeria and photography can never end too. So, any good photo laboratory can make much more than N30m in six month and after.'
The only way out for anyone going into the business, according to the Chief Executive Officer, Adapt Interactive, Mr. Aluko Muyiwa, is to seek knowledge about the industry because it goes beyond just acquiring the machines, adding that one must be able to ensure quality control vis-Ã -vis the final products.
He says, 'The first step to starting your own digital photo printing business is to learn everything you can in the industry. This will get you familiar with the processes, equipment and pricing.'
Ettah recommends that if one does not have the knowledge, one must consult industry experts and not photographers who do not know much about technical complexities of the machines and required chemicals for quality production.
Ettah and Aluko agree that location is very essential to successful digital photo printing business. They recommend that while thinking of the space required for the size of machine being acquired, an investor must be mindful of the proximity of the location to central business areas.
'Digital photo printing business is about good location, so you need to think about how central and accessible your location is to your customers,' Aluko adds.